Just last month I spoke to moving pictures maestro Pablo Alfieri (founder of multidisciplinary studio Playful) about breaking the rules in art direction and still life. Unstoppable, he's at it again, and this time has been joined by fellow conspirator, photographer Paloma Rincón, in pushing the boundaries yet again. This time playing getting frisky in a project entitled Sex for Breakfast.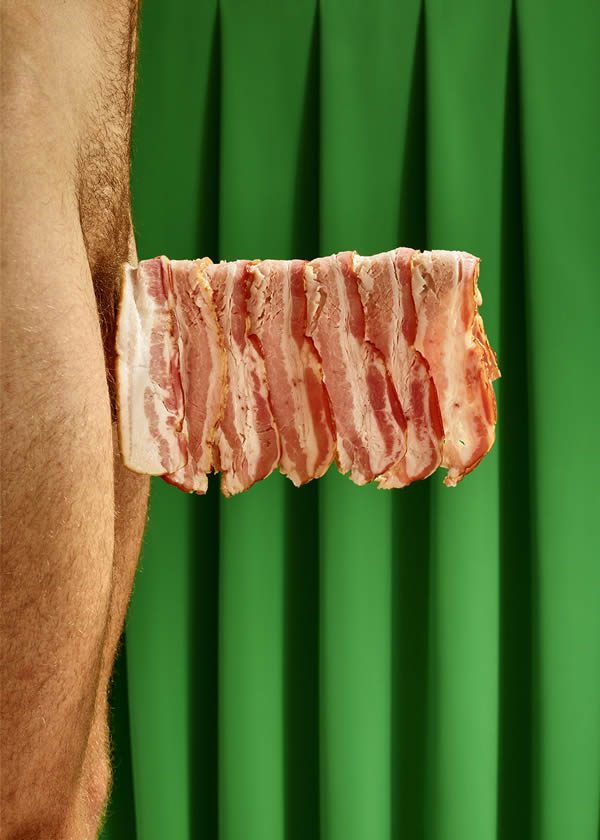 "Yes please", I hear you shout silently in your minds. We are, after all, pretty carnal beings — sexing and consuming as often as we can or have time for. If we're not doing it at our desks or on the move, we're certainly thinking about it. (I'm talking about food here!)
The self-initiated project is naturally a bit of self-indulgence. Wanting to portray the fun side of early morning sexy brekkie in a way that highlights the duo's bulging talent and provocative sense of humour. Featuring highly-polished and colourful still lifes and anonymous portraits of bums, legs, and other body parts surrounded by tasty eggs; suggestive sausages; and naughty pancakes, Sex for Breakfast is quite the erotic portrayal of early morning kink.
The duo certainly have balls (ahem) to have gone ahead with the project, and the result is exceptional art direction and photography — not graphic in any way, there's a rather stylish, fashion-focussed element to the executions; but it's more than just aesthetic for Alfieri and Rincón. "Since we were children we were told not to play with our food, and definitely not even talk about sex. So we challenged ourselves to explore these topics in an innocent and direct way; an ode to pleasure, enjoyment and freedom."
I wonder how the set was and how much giggling went on with models covered in bacon or maple syrup? Whatever happened, we're pretty certain that it was playful and creatively-charged; the final product sure shows it.