Melbourne based design studio Biasol have completed their recent project — an interpretation of an all-day eatery with unparalleled style — for South Yarra restaurant, bar and café Middle South East.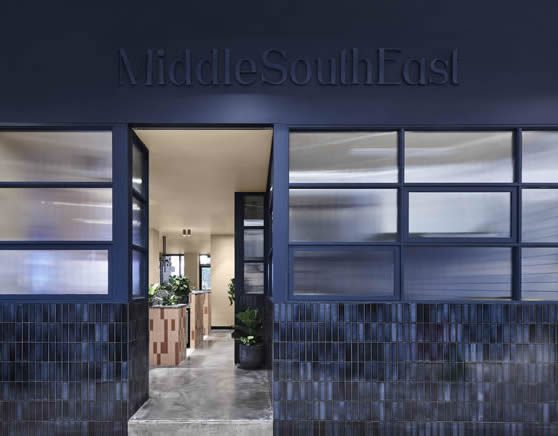 Putting together a venue that facilitates an effortless transition between breakfast, lunch and dinner service, Biasol established different areas for different needs; encouraging fluid connectivity between each. Be it your morning coffee or juice, lunch, post-work cocktails or dinner — all is gladly received and made to feel welcome at any time here; indoor and outdoor seating and a custom-built coffee and takeaway cart add to those plentiful options.
Telling us that they 'wanted to capture the essence of a rich cultural heritage through an immersive experience combining food, drink and space', Biasol worked closely with the owners on the slick eatery, opting for light and dark shades of terracotta, hand-made tiles and Terrazzo stone on tables and bench tops to exude the evocative earthiness of Middle Eastern architecture.
Celebrating generous hospitality, through a modern Australian lens, Middle South East merges contemporary Australian cuisine and Middle-Eastern flavours; whilst providing an essence of depth, honesty and culture to the heart of South Yarra. Designed for both sharing and diving into solo, dishes are as inventive and authentic as Biasol's typically debonair design.
@middlesoutheast
@biasoldesign