As co-founder of the Swedish fashion brand HOPE, Ann Ringstrand spent 25 demanding years building her business until in 2014 she began to transition away from such constraints, instead spending her time meditating, practising yoga and visiting the Lower East Side art studio that she shared with friends — actions that led her to realise that focusing on sensory experiences (especially smell) helps humans to feel more alive.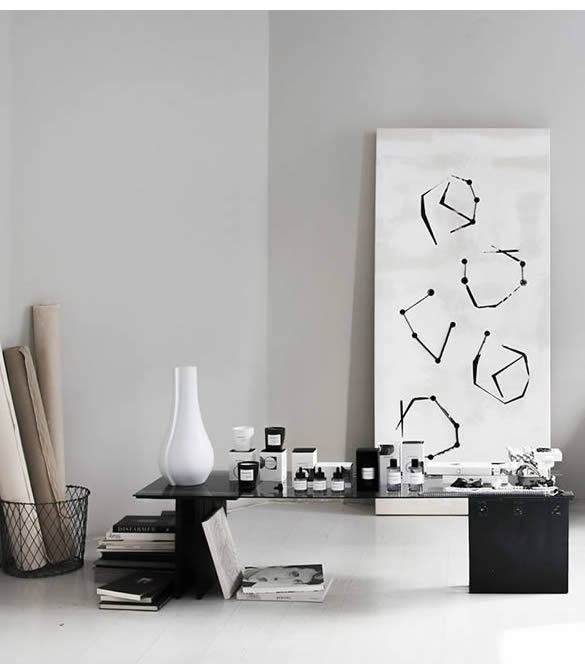 Fast forward three years and Ringstrand has launched three fragrances. The scents (presented as eau de parfum; scented oil for burner; and soya wax scented candles) are available in three aromas: Ground, a fresh scent with a light spicy start that is based around the importance of grounding ourselves and being calm; Gather, an early, woody and aromatic scent that is based on social relationships, and is a perfume to take the wearer seamlessly from day to night; and Touch, a leathery, spicy and powdery scent, designed with top notes of Juniper berry, black pepper, coriander- and carrot-seeds, inspired by the intimate relationship between two humans.
Launched at lighting designer Lindsey Adelman's New York City showroom earlier this month, alongside a limited-edition sculpture by Maria Moyer, Ringstrand's design range is completed by accompanying jewellery (produced in collaboration with an artisan from the mountain area of Belo Horizonte, Brazil); ceramic ware for scent diffusing; and a select edit of studio wear for what is billed as 'mindful moments of yoga and meditation'. Embracing the disconnect and putting sensory consideration high on her priority list, Ann Ringstrand's simplistic aesthetic unifies a collection to cleanse the soul.