Famed for their overtly colourful, graphic style, Craig & Karl have taken it to its minimal limits in an impressive new installation currently showing in Guatemala City; created for annual festival Showcase ITCH, Optimystic is a modern take on the centuries-old custom of sawdust carpets.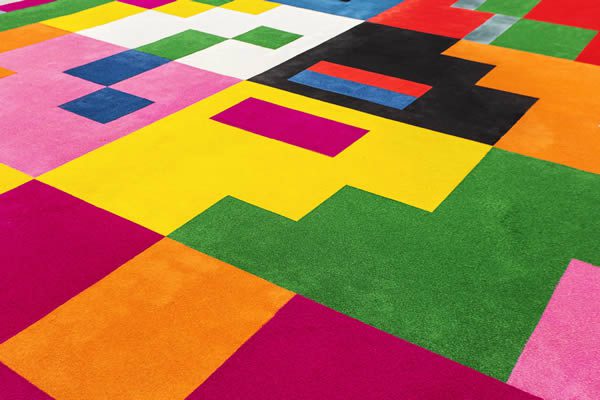 'Locally, the sawdust carpets are expressions of faith and community created in a celebratory atmosphere,' explain Craig Redman & Karl Maier, 'in creating one, our aim was to adopt and extend these basic precepts, introducing our viewpoint and taking it somewhere new that felt relevant to our lives, without wholly severing a connection to their traditional role within Guatemalan culture.'
Collaborating daily via the wonder of the web, Redman and Maier live in New York and London respectively and, as such, have found 2016 to be in need of a lift. 'Within our work, optimism is a fundamental tenet and ultimately what we endeavour to convey by message or example or both,' they continue, 'vis a vis, our carpet is quite simply an expression of faith in optimism. Our creative act is inherently one of optimism; it imagines a better, richer, more enlightened world. And, with the world in increasing disarray, it seems a timely message – more than ever a sense of optimism is required.'
Traditionally created on city streets as a pathway for ceremonial processions, Craig & Karl's sawdust carpet invites us to contemplate a world where our ceremonious occasions are not filled with hate and bigotry — hell knows, 2016 needs Optimystics like this.
Showcase ITCH runs until 2 December at Fox International Channels, Guatemala City.