Occupying a corner spot on Los Angeles's 6th Street, in the city's hip Koreatown, Here's Looking at You is a neighbourhood restaurant that is neither distinctly Korean nor distinctly American. Instead, led by chef Jonathan Whitener, a Southern California native, it's a restaurant influenced by the area's dynamic internationalism; the cuisine an expression of Whitener himself.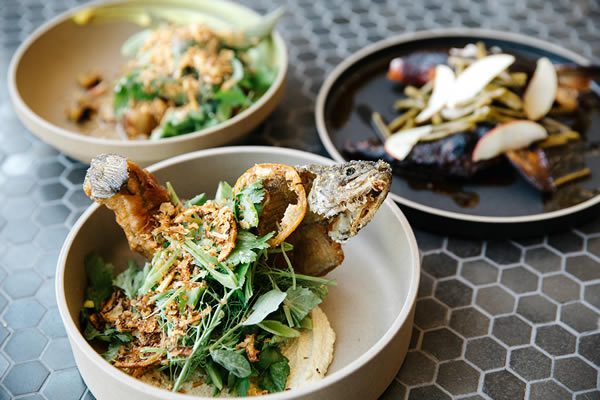 The former chef of american restaurant Animal (known for its offal specialities and meat plates, naturally), Whitener and managing partner (and former front of house manager at Animal) Lien Ta have created an inspired food menu that features mouthwatering plates like soft shell crab with black sriracha, pistachio, buckwheat honey and scallion; white trout with khmeli suneli, hummus, snap peas, lemon and cilantro; and heritage pork belly with key lime amba, pineapple, palm sugar, herbs and shallots. The ex Animal man's veggie dishes sound just as appetising, though: take shishito peppers and beets with feta with the perfect amount of spice and run. A cocktail menu has been devised by Allan Katz and Dani Crouch of Caña Rum Bar, and the duo will oversee a seasonally shifting menu that complements a comprehensive wine list.
The dining room is a clean utilitarian affair, although special props to the framed shot of a certain Steven Patrick's controversial shoot for Supreme; a wooden bar with books stacked along the top lends the feel of a SoCal modernist mansion. Free from fuss, and focus on the kitchen's distinguished output, Jonathan Whitener and Lien Ta are intent on enhancing national culinary relevance in today's most important Los Angeles neighbourhood, Here's Looking at You, kids.