Everybody's experienced it: that moment when you walk into the bar of your dreams. The kind of bar whose napkins hosted the first notes for The Great Gatsby or A Farewell to Arms; the kind of bar where As Time Goes By was first heard or where Tom Waits fell asleep on the piano while writing Tom Traubert's Blues; the kind of bar where you met the love of your life in a city you didn't really understand.
Right? Well, I certainly have. And this month in Basel's Grand Hotel Les Trois Rois, that kind of bar is landing fully-formed, asking drinkers to think about art and thinkers to consider the importance of drinks.
Called Roth Bar, it's the conception of Björn, Oddur and Einar Roth, son and grandsons of German-born Swiss artist Dieter Roth. For anyone familiar with Roth-the-elder's work, the Roth Bar will have a reassuring, welcome sense of familiarity. Roth was always pushing boundaries and testing limits in terms of what could be called 'art' (see: his 'biodegradable' pieces that sometimes involved cheese), and this piece, which debuted earlier this year in Zürich and is now part of Art Basel 2015 and hosted by Hauser & Wirth (whose Somerset arts centre hosts the intrinsically linked Roth Bar & Grill), is playfully interested in asking exactly those kinds of questions.
[Cont.]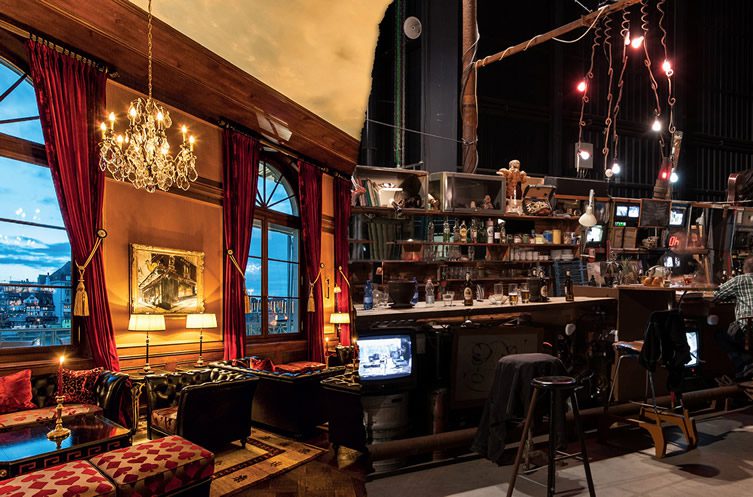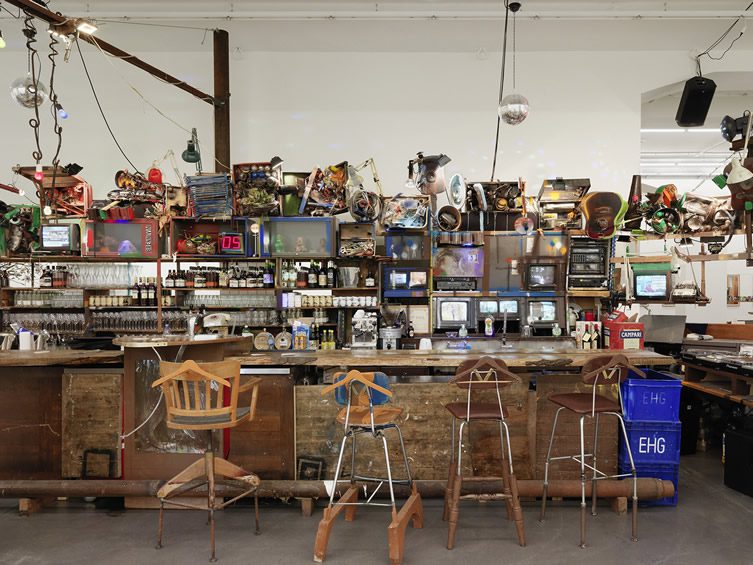 It's a cross-generational project, which started with Dieter back in 1983 and Zurich's Bar 2. That, like this new iteration which continues the tradition, was a fully-functioning bar but also an installation and an archive, where every bottle served became part of the backdrop and the conversations were recorded. Like this one, it was a place that recognised that the passing moments people spend at in-between places, possibly a little hazy yet no less important for that, are essential and deserve recognition. It's a poignant glimpse of something that's both transitory and full of heritage and tradition: a recognition that we can't hold on to every moment, yet that it's worth trying to.
And where better for this new iteration than Les Trois Rois? One of Europe's oldest luxury city hotels, it offers precisely the kind of ambience that a project like Roth Bar requires, an ever-evolving place that lives in the present while never forgetting that its august past is the source of its magic. The hotel's award-winning Chef de Bar (that's head-bartender to the rest of us) has even created a special commemorative vodka, Lillet and Cointreau-based cocktail in honour of the Roths.
This is one of those rare pieces of installation art that is a total pleasure. Go — order a drink, remember bars of the past (yours and others'), and don't forget that time spent propping up Roth Bar isn't time wasted. Last orders, 21 June.