Husband and wife duo Nuno Freitas and Rute Esteves have converted a century-old three-storey building into a charismatic guesthouse in the north Portuguese town of Viana do Castelo. Named Dona Emília after Freitas' grandmother Emília Freitas — a larger than life character known in the local vicinity for her fighting spirit and staunch family values — the guesthouse may be styled like a boutique hotel, however friendship and a strong cultural ethos preside here.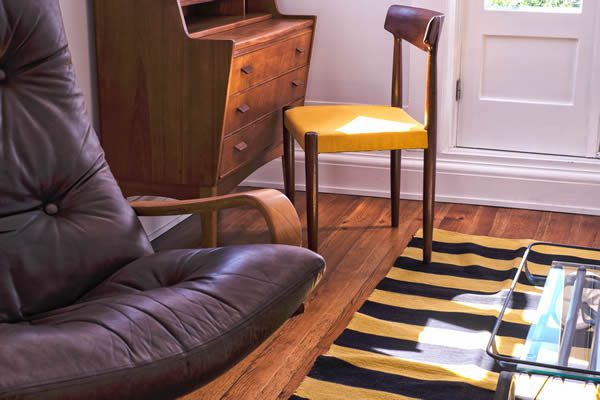 The property's original staircase is a central focal point and access point between the three floors that are filled with art, contemporary furnishings, vintage finds and precious curiosities. The three rooms can be changed to suit the requirements of the guests whilst the three suites can be booked for medium- to long-term rentals.
The interior design was conceived by Freitas and Esteves themselves, the couple having worked in collaboration with local stores and ateliers to ensure that each and every nook and cranny of this dream property tells a different story. Common areas include a kitchen which opens to the public every Friday lunchtime for private tastings; an art gallery; store (featuring products from local artisans); and a retro-inspired lounge and terrace.
A bicycle garage is located on the property for those exploring the surrounding area on two wheels; for those desperately seeking uninterrupted relaxation, the Dona Emília holistic area — complete with swimming pool and sculpted gardens — beckons. Exhibitions, art residencies, and workshops form part of a cultural programme that's open to visitors and public, as Nuno Freitas and Rute Esteves outline their commitment to artistic endeavour. Larger than life, Dona Emília.