Norway's Lillehammer Art Museum and Lillehammer Cinema have undergone a second expansion at the hands of revered Oslo-based architects Snøhetta; integrating art, architecture, and landscape within and around the 1964 Erling Viksjø-designed building.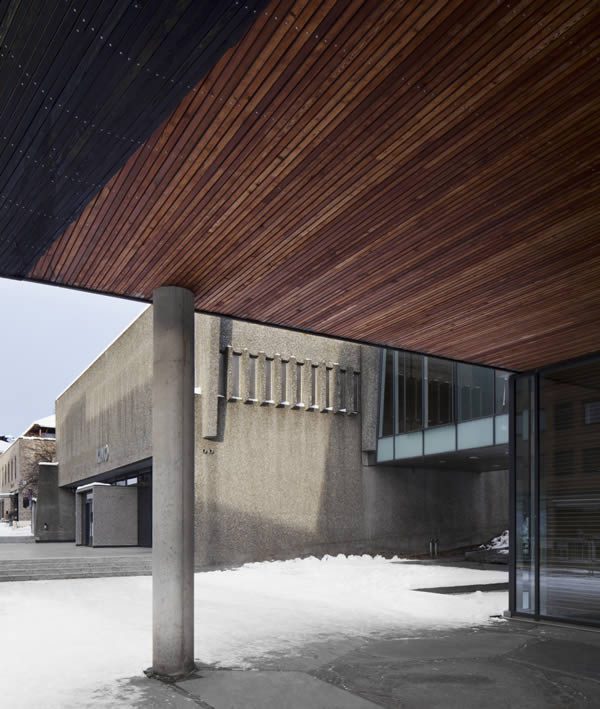 Snøhetta added a new contemporary building to the complex in 1994, also transforming the spaces between the buildings into an art garden. This time, that hinterland has been enhanced once more, creating a united project that now encompasses an architectural integration of their 1994 building to the original; two new theatres and an interior renovation for the cinema; and Weidemannsalen, a sculptural new gallery space with a wrinkled metallic appearance.
Born of the concept of art hovering above a transparent base, the staggering new space houses a children's workshop at ground level with floor-to-ceiling windows; the second storey gallery (devoted to the the works of Norwegian modernist Jakob Weidemann, who spent most of his years in Lillehammer) features a singular 'wrap', that reflects its surrounding context and shifts appearance with the light. The façade — made from driven, highly polished stainless steel — was created by Norwegian artist Bård Breivik (who sadly passed away last year, before seeing this project's completion) and is founded on the notion of a shooting star; signifying Weidemann's importance to the legacy of Norwegian painting.
From the brutalism of its 1964 beginnings through the expressionism of Snøhetta's original expansion, and to its present state and futurist addition; Lillehammer Art Museum and Lillehammer Cinema is now a cohesive environment of disparate architectural influences, each a worthy companion of the other. A project with art and design at its heart, an artwork in itself; it's some draw for a sleepy town set deep in Norway's dramatic countryside.