Do you know what creativity smells like? Azzi Glasser does. The perfumer was commissioned by Mo'Wax man James Lavelle to create a fragrance that serves as a sort of DNA of all that the restless creative has achieved over the last quarter of a century.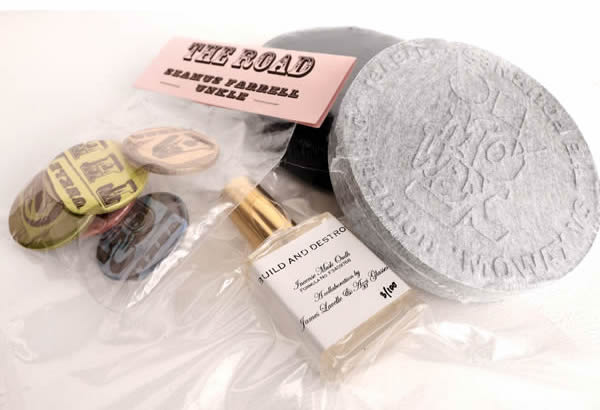 That's right. If you want to feel old, follow Lavelle through an all-encompassing ode to his own achievements; one that marks 25 years of his cross-media project, UNKLE. Long before Hypebeast, in the dusty pre-digital age, the counterculture media mogul immersed himself in the street art, Japanese, and streetwear cultures that today saturate corners of the internet stalked by Kanye West-obsessed sneaker fans.
And the fragrance? An embodiment of the fidgety obsessiveness that Lavelle and his devoted fans have committed to the UNKLE cause throughout those years; a story rooted in collaboration upon collaboration. Currently ccupying Lazarides Rathbone, Daydreaming with UNKLE Presents… THE ROAD: SOHO precedes a new album, and celebrates the depth in diversity his project has waded through in those 25 years. 'UNKLE has always been a multi-sensory creative project,' Mr Lavelle begins, 'ranging from genre-defining music to cutting-edge visual art. It therefore feels incredibly fitting to celebrate UNKLE's past, present and future in Soho, where it all began.'
Expect work from longtime collaborators like Futura, Robert '3D' Del Naja, Warren Du Preez and Nick Thornton Jones; collectible odds and sods in a pop-up from Medicom, Nike and Cali Thornhill Dewitt; limited prints designed for the show; talks, screenings and new video installations that accompany the first chance to hear music the forthcoming UNKLE album, featuring collaborations with Keaton Henson, Mark Lanegan and Eska.
Daydreaming with UNKLE Presents… THE ROAD: SOHO continues at Lazarides Rathbone till 23 February.