Once largely abandoned and populated solely by maintenance workers — occasionally the odd Hollywood action hero leaping from one to another — city rooftops have enjoyed a renaissance period of late; as outdoor space becomes more difficult to attain, and demand for urban refuge from the chaos below peaks.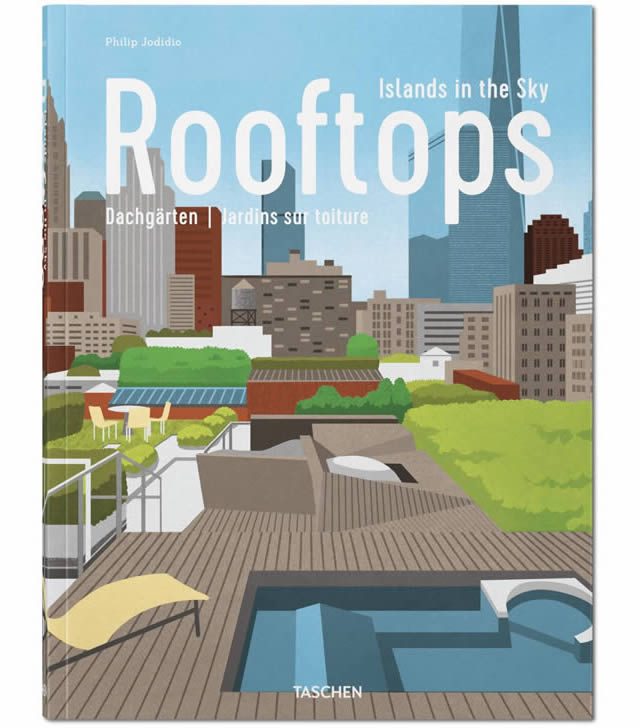 Hip bars, restaurants, secret gardens and even unconventional living spaces — rooftops are being cleverly commandeered by wily residents and enterprising proprietors; also reconsidered as new prime real estate by architects and urban designers. More and more, our generation is reconnecting with nature — where we once thrived in the concrete jungle, our need for green space is ever-increasing; offering space that simply cannot be equalled at ground level, the urban rooftop is a slice of city living without parallel.
Compiling over 50 bars, restaurants, temporary art installations and gardens from cities as diverse as Sydney, Hong Kong, Oslo and Chicago, Rooftops: Islands in the Sky — a new publication from Taschen — lets its readers in on a series of rooftops that remain secret hideaways to many; a look up to the oft-unattainable spaces that enlighten and inspire residents desperate to break away from the bustle of the metropolis below.
Designers of Norman Foster, Shigeru Ban, Jeffrey Inaba, Julien De Smedt's ilk and landscape designers like Ken Smith and Vladimir Djurovic are featured in the publication, esteemed architecture writer Philip Jodidio drawing on his vast knowledge for the expansive 384-page tome; illustrator Boyoun Kim compliments awe-inspiring photography with bright contemporary illustrative work.