The gallery founded by Per Skarstedt in 1994 is currently celebrating the inauguration of its new London space with a big-hitting joint exhibition: Cindy Sherman's History Portraits (1988 — 1990) and David Salle's Tapestry Paintings (1989 — 1991). Expanding to London from New York in 2012, Skarstedt's new St James's space has been realised by Thomas Croft Architects, and the intentions of the 5,000 sq ft gallery have been set in this impressive opening.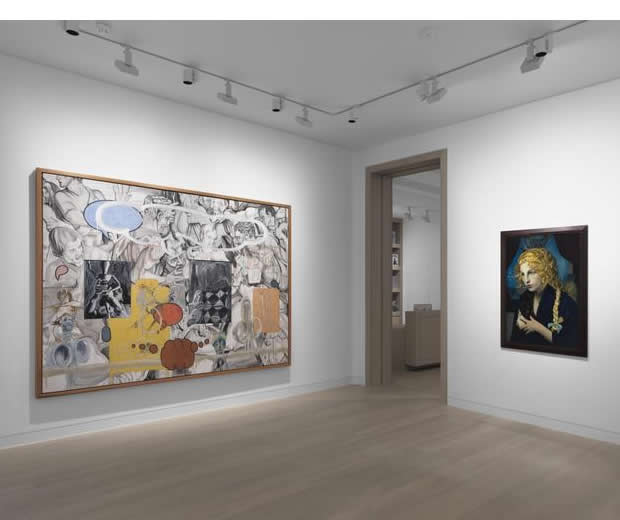 Key protagonists in New York's 'Pictures Generation' movement of the '70s and '80s, Sherman and Salle are united in taking their inspiration from existing imagery and exploring the theme of performance throughout their practice. The bodies of work themselves share common ground, too, both rich in historical references; Salle's Tapestry Paintings a pastiche on 16th and 17th century Italian and Dutch genre styles, History Portraits seeing Sherman look to the renaissance, baroque, rococo and neo-classical periods.
The New Jersey-born artist puts her well-used range of props and costumes to use in her classically composed images, playing up to the clichés of subjective portraiture — assuming, as she is so famed for, the role of model and creator. Presented side-by-side, the coincidental nature of Sherman and Salle's reference points reveal the enduring lure of art history on contemporary artists; the former provoking a reassessment of the time's gender stereotypes, the latter adding chaotic layers of compositional complexity, as the shared cultural references are contorted into their own individual styles.
Cindy Sherman & David Salle: History Portraits & Tapestry Paintings continues at Skarstedt, London, until 26 November.