New Surry Hills restaurant Nour is reinvigorating the Lebanese food scene in Sydney with a modern and exciting dining experience. It's not simply about the typical falafel and baklava here, oh no; instead they take Lebanese flavours and playfully tease out their full potential. Small sharing plates, Middle Eastern breads and fine cocktails take centre stage at Nour.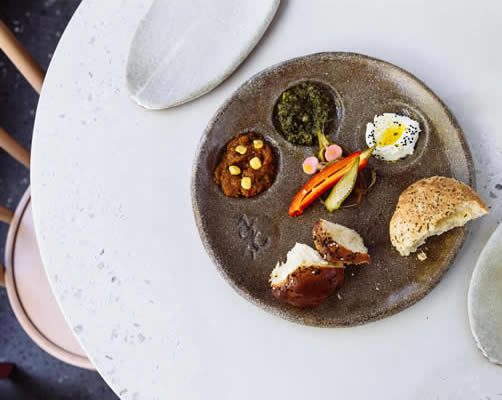 Meaning 'light' in Arabic, Nour is run by restaurateurs Ibby Moubadder and Eleanor Harris (their second restaurant after Cuckoo Callay in Newtown), and is a long time dream of Moubadder — who arrived in Australia from Lebanon in 2007. The kitchen has some serious credentials too, overseen by Palestinian head chef Nader Shayeb (previously of London's Moro Restaurant) and Roy Ner (previously of Sydney's renowned ARIA).
Designed by local studio DS17, the restaurant follows that theme of 'light', and is a delicately-hued affair; featuring an open kitchen enabling diners to watch the breads being made — following their journey from the wood-fired oven to table — a 20-seat bar, and lush outdoor terrace.
A combination of natural oak, marble, copper detailing and white concrete, the space is bright and sophisticated, with a pleasing retro touch; that delicate palette of dusty pinks and salmons making it the ideal environment to lose yourself in an explosion of Middle Eastern tastes.