Never mind the swanky fucking art books, here's THE swanky fucking art book. Goz on that. The ill-bred insolence of Rotten and co. tore pages from the rock and roll history books in the late 1970s and used them as toilet paper; 40 years have passed, and now Sex Pistols themselves are the subject of history books. Very fancy ones at that.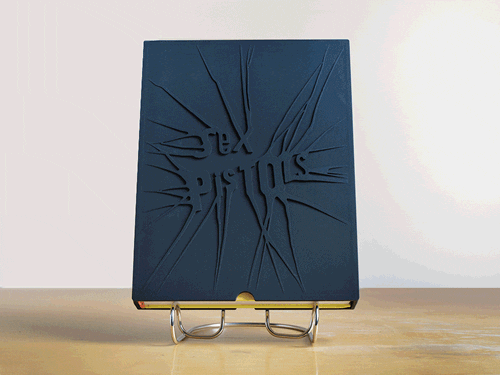 Recently released by Anthology Editions, GOD SAVE SEX PISTOLS is a suitably enhanced version of the Rizzoli publication SEX PISTOLS, and comes in two super limited editions that hark to the indelible mark that punk iconography that has left on the cultural landscape.
Jamie Reid's designs for the band are commercial art that truly deserves to be called iconic, and his powerful portrait of snotty-nosed London punk are seen here alongside an unprecedented wealth of ephemera and never-before-seen photographs; handwritten letters from Malcolm McLaren to the band, concert tickets, fanzines … the publication — edited by Johan Kugelberg, Jon Savage and Sex Pistols archivist Glenn Terry — is undoubtedly the most comprehensive visual history of the band produced to this date. Pretty vacant it is not.
Those who were at Manchester's Lesser Free Trade Hall on 4 June 1976 (and those who pretend to have been) will no doubt be enticed by the $650 'ultra deluxe' edition. Along with the bondage-inspired, 5mm 'rubber' slipcase designed by French street artist Zevs, and the rare press clippings and silkscreened print that accompany the deluxe edition, those swinging for the one-of-500 'ultra deluxe' will be treated silkscreen prints endorsed by Mssrs Reid and Zevs (printed on cotton rag paper), four new silkscreen prints designed by Anthology Editions, a hand-crafted clamshell case, tote bag and custom 'safety pin' metal display stand designed by Sehti Na and Thomas Clapp.
Anthology Editions's GOD SAVE SEX PISTOLS is available now in 320-page hardcover (first edition), 9" x 12". The deluxe edition is limited to 2,000 copies; ultra deluxe limited to 500.