It was nigh on impossible not to become unequivocal fans of husband and wife design duo Michael & George the moment I set sight on their joyful HB Pencil Lamp back in 2014; we've been waiting in suspense since for an addition to the family.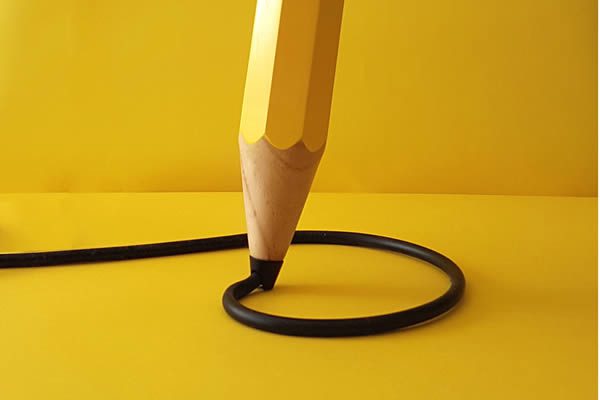 Standing at six feet tall, the lamp captured the attention of many; however not everybody had the space to house the gleeful object and its whopping 10 metres of cabling. Fast forward a couple of years of head-scratching, Michael & George have had their lightbulb moment (sorry) and Drew the Pencil Lamp is born.
As big and bold in character as the original pencil lamp, Drew hovers over a surface as though held by an invisible hand and, unlike a traditional lamp, its 2 metre cord (as flexible as a real pencil scribble) is a feature of the design. The imaginative duo have really sharpened the design elements too, Drew is switched on by lightly twisting for a dimming effect; a vigorous twist delivering a more luminous effect.
Pencil in a visit to their new Kickstarter where, as well the original yellow colour, you can find limited edition black Drew Pencil Lamps (available to just 20 backers) and the ultimate goal of unlocking an additional range of colours if the campaign hits $100,000. Early bird specials are still available for those quick on the draw, with savings of up to 40%.