George Wu and Sara Melin have been dispatching oodles of affordable design to followers and fans of their regular pop-up, The Poundshop, since 2010. Their latest edition sees the duo having set up camp north of the border — Glasgow to be exact — for a collaboration with Wasp Studios at Merchant City Festival 2016.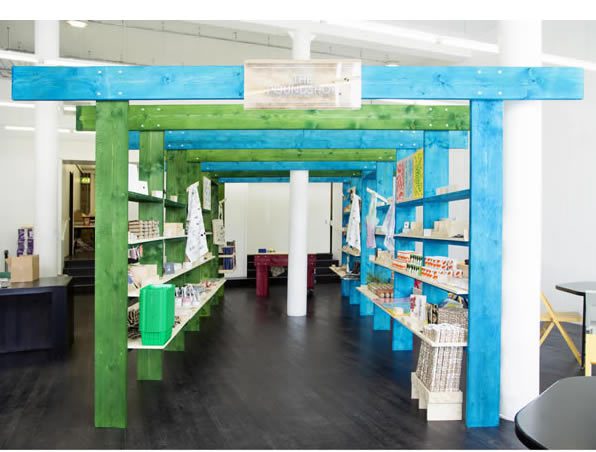 The Poundshop 17 celebrates the 10th anniversary of the Scottish city's twinning with Marseille; each of the budget-friendly products curated and influenced by the two cities, and sold with a price mark of £1, £3, or £5 (marked by coloured dots). The curated products include wrapping paper by Nikki McWilliams, earrings by Custom Made, and postcards by Benoît Bonnemaison-Fitte.
The full list of creatives involved in the low-cost high-design knees-up runs as such (take a deep breath): Alice Jacobs for Flux Laser Studio, Alice Stevenson, And penguin said nothing, Beth and Betty, Benoît Bonnemaison-Fitte, Benoît Jacques, BOOM!BADGE, Charles Fréger, Custom Made, Claire Henry Ceramics, Dicky Bird, Doris does doodles, East End Press, Eva Abdulina, AUB VisCom, everyones electronic, FOTOKINO, Frédérique Bertrand, Glasgow Soap Company, Hanna Melin, Jenni Desmond, Jochen Gerner, Jode Pankhurst, Jolly Robin, Kablom, Lisa Jones Studio, Lollipop Designs, Mr Ps, Nikki McWilliams, PERF, Mr PS, Nikki McWilliams, RISOTTO, Sara Ferrari, Scout Editions, Sparrow & Wolf, Teresa Mum, The Poundshop, and Tom Pigeon.
The Poundshop 17 is open everyday until 7 August, local designer Steff Norwood having designed the South Block space in his singular style.
@The_Poundshop
@MerchCityFest
@waspsstudios