Tucked away on a quiet street that links the rue du Faubourg Saint-Honoré to the Champs-Elysées, Amastan Paris — a new hotel, and a debut flagship property from the urban brand of the same name — offers just 24 guest rooms in a polished space that contradicts the current wave for maximalism and old-world opulence that plenty of the city's hotels are riding on.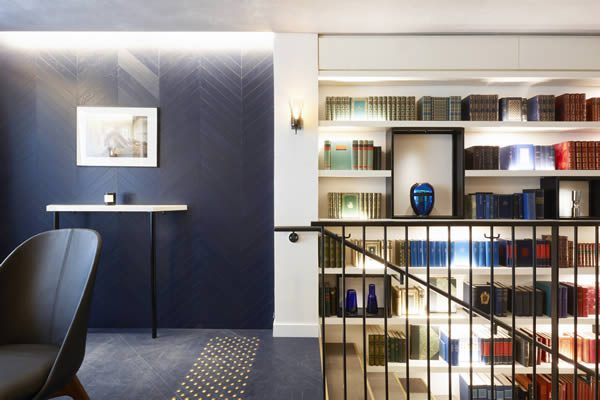 Piquing our interest with buzzwords like culture and curatorial, Amastan founder Zied Sanhaji has enlisted local design and interior architecture studio NOCC to create an environment for the discerning, well-travelled, and fully signed up members of the creative class; an environment filled with warmth, elegance, and wit.
Allocated over six floors, the rooms feature bespoke furniture — some with garden views, others with private balconies. The public spaces are framed by a specially conceived architectural light scheme, whilst the ground floor features a petrol blue herringbone parquet floor that's been applied to the walls, and a commissioned tapestry by Jan Kath. Bar and night-owl den Anouk (with a separate entrance) opens onto a lush garden, with over 30 species of flora and fauna and rock shelving, which provides natural seating.
Keen to bring emerging and established creative talents together, Amastan are also launching Pop-In this month; a project space that sits adjacent to the hotel, dedicated to pop-up installations and collaborative projects predominantly in the worlds of art, fashion, and design. Urbane, with a Parisian slant for the cosmopolitan, Amastan's leaning towards the arts makes for an interesting addition to the city's congested hotel scene.