What exactly is a map? I guess, in a nutshell, they're about getting you from A to B; what if that same principle was true, but there were no roads, no cars, no hiking boots? Mapology Guides deliver, by way of plotting out an A to B journey — it's just the vehicle and route we take that's a little different.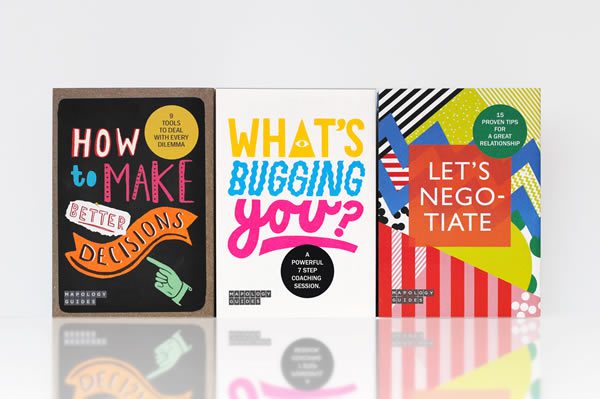 Helping people to find their way in life, over a map's traditional cartology, here we have maps for 'life's journey' — a light-hearted yet illuminating path to follow; looking at how to resolve a miscellany of personal issues.
July sees the launch of three new guides: Let's Negotiate complete with 15 illustrated tips for a great relationship, How to Make Better Decisions featuring a hand-drawn algorithm with nine tools and insights to guide you through making better choices, and the seven-step coaching session, What's Bugging You?, a guide designed to help you address and move forward from your personal annoyances.
Printed in the UK using sustainable paper, the double-sided maps are curated by designer-blogger Tina Bernstein and designer-artist Mike Abrahams, who call upon a different writer and illustrator to help demystify a different topic for each individual guide — usually priced at £5 each, you can take advantage of their launch offer of three guides for £12.