When I was a kid, the only royal in a barbershop was the proverbial 'right royal fu … '. Barbers were butchers with scissors instead of knifes. Then all these hipster barbershops started cropping up, harking back to the golden era with their tattooed rockabillies and vintage paraphernalia.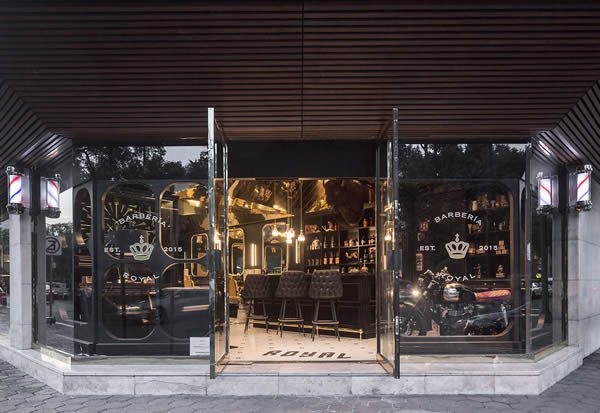 Over in Mexico City, a new spot is eschewing the Brylcreemed quiffs and taking their vintage up a notch — honouring time-old traditions with a luxe upgrade on the barbershop revival. Barbería Royal is the name, and royal is very much in its nature; coming off somewhere between a butch prince's hunting den, and the inside of a princess's trinket box.
If that all sounds a little mad, that's because it is; ROW Studio's eclectic interior incorporates odds and sods from a proposed barbershop on the same site that was never finished, as well as recycled and upcycled vintage elements, that traditionalist spirit, and the veneer of European royalty. Somehow, it all comes together nicely. Standing against the clichés of Mexican architecture, ROW (Rest of the World) have responded to the space's changing heights with a ceiling installation made up from reflective laser-cut golden anodised aluminium — a very royal focal point for the multifarious interior.
Eclecticism continues throughout: artwork and decoration stylised by Ivan Esqueda lend detail throughout, there are golden animal heads protruding from the gilded frames of each station's mirror, a looming taxidermy buffalo head looks over proceedings, and a fully restored vintage Triumph motorcycle imparts a little of that rough-and-tumble '50s vibe so common in high-end barbers. And the service? Expect the royal treatment.