'These are my boyfriend's guns. He loves shooting. I have brought him here tonight for his birthday treat.' A treat that saw an elementary school playground worker join her boyfriend in pumping lead from a Ruger AR557 rifle into a target poster at downtown Los Angeles's L.A. Gun Club.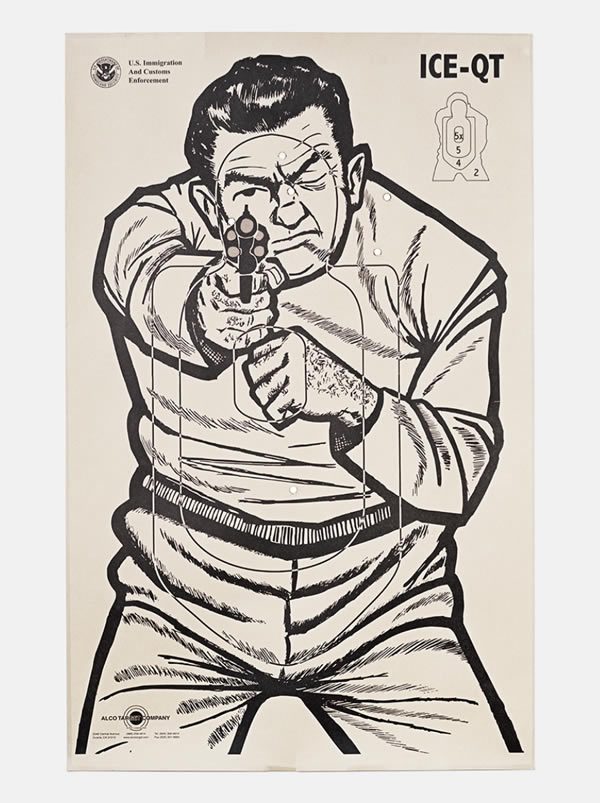 America's unhealthy obsession with a loaded weapon is something few of us outside of the US can get to grips with. In a new body of work, showing now at London gallery Eleven, photographer Jane Hilton affords us an insight into the normalised attitude which many average Americans hold towards gun culture.
From Nevada brothels Madame Kitty's Cathouse and Moonlite Bunnyranch, to the enduring appeal of cowboys in the American West; the London-based artist's deep-rooted desire to uncover the defining spirit of Americana and United States culture has seen the British artist extensively document the American landscape and its people since developing her obsession on a trip to Arizona in 1988.
L.A. Gun Club sees the romanticised cinematic aesthetics of Hilton's previous work replaced by documentative works, captured on a 5 x 4 inch plate camera, but their impact is in no way diminished; a powerful message about the defective American dream plays out in the brief interviews the artist conducted with each of the shooters: 'the girls at work enjoy it,' recalls a 28 year-old beauty therapist, 'it is not unusual for teachers at my school to have guns and use them at clubs for stress relief,' a biology school teacher.
Jane Hilton, L.A. Gun Club continues at Eleven, London, until 18 June.
* Pigment print on Archival Fine Art Etch paper
Paper size: 30 x 22 in / 76 x 57 cm. Edition of 7
Age: 26. Occupation: Architecture student
Gun: Smith & Wesson .44 Magnum Revolver
"I wanted to use the same gun as Clint Eastwood used in the movie 'Dirty Harry'"
@janehiltonphoto
@elevenfineart