With less than 90 days until the Rio 2016 Olympic Games opening ceremony, Philip Watkin and his team at sofa maestros DFS have designed and launched a limited edition range that encapsulates the patriotic spirit of Team GB; and the heightened enthusiasm for another fine run of medals.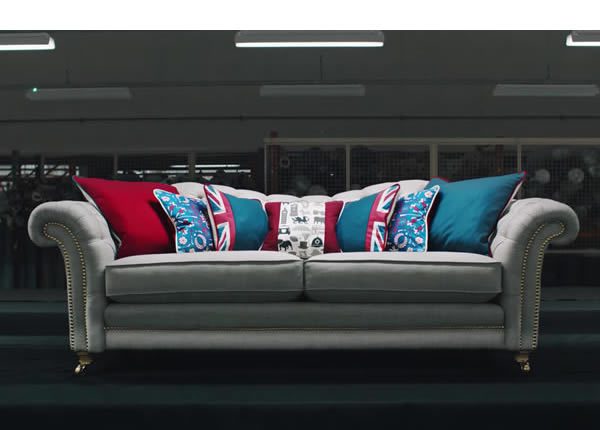 Watkin, design director for the UK- and Ireland-based furniture retailer, has taken cues for his Great British sofa from that most quintessential of British chair designs: the Chesterfield. Harking back to the timeless nature of the Victorian era for his inspiration, he and his team have also been influenced by 'the best of British'; namely iconic design, quality materials, and unshakeable craftsmanship.
Christening their sofa (and the accompanying collection, including armchairs and footstools) Britannia, DFS have taken an archetypal symbol of Britishness and created an updated version that speaks to today's heroes. Double gold-winning Laura Trott joins fellow 2012 Olympics medal winner, gymnast Max Whitlock, and rising swimming star Adam Peaty, in partnering with the brand on a campaign for the range; and the trio (along with the rest of the Team GB athletes) will accompany the Britannia in travelling to Rio — where the sofa will act as a centre piece in their home-from-home, The British House.
You can join in on the glory, taking your own piece of the Britannia collection home by heading to the DFS website; follow Team GB and DFS on Twitter or Instagram using the #GreatBrits hashtag, and be the first to see exclusive footage of the athletes.
Competition
Simple: you can win £1,000 to spend on the Britannia collection, or anything else at DFS — just leave us a comment at the foot of this post saying why you love the Britannia with the hashtag #GreatBrits (ensuring you tick 'Also post on Facebook'); we'll choose a winner randomly when the giveaway closes at 5pm, Friday 27 May.
*Note: only UK residents 18 and over can enter, full terms and conditions at the foot of this post.