In a world where art statements often relate to the over-sharing of the digital age — big and bold, and loud, and shouty in-yer-face — Kai and Sunny's poetic work stands alone, as if physically rendering the moments of contemplation we all need between checking likes, casting retweets, or Instagramming your next derelict wall.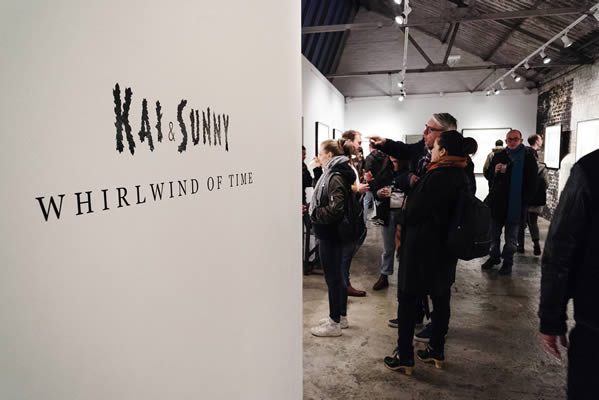 The art duo both grew up in the English countryside, surrounded by fields, and lakes, and rolling hills; all that serene nature that Britain does so well. And it shows in their work, which is predominantly shaped by nature — highly stylised interpretations of its intricate workings. Whirlwind Of Time (now showing at Stolenspace Gallery in Whitechapel) is their latest body of work, a collection that continues a tradition of linear work, but that injects a higher does of colour than the duo are known for; complex images built up with ballpoint pen, representing tidal shifts, the passage of time, and reflection.
Kai and Sunny continue their ongoing collaboration with David Mitchell (the author of Cloud Atlas, not the fella off Peep Show), who has penned My Eye On You, a short story in response to the works. Having been doing the rounds at influential galleries around the United States, Whirlwind Of Time is the pair's first London show since 2013, and their fourth solo exhibition at Stolenspace; alongside the new original works, the artists present a new print edition and a series of decks in collaboration with American skate brand Element.
Whirlwind Of Time continues till 10 April at Stolenspace Gallery, London.