Drawing cracking great burly men for his own diversion since a teenager, the artist who would become known as Tom of Finland destroyed much of his early work upon being conscripted to World War II (in a time where homoerotic material could have grave consequences); only to find greater fetishistic influence from the uniforms that surrounded him.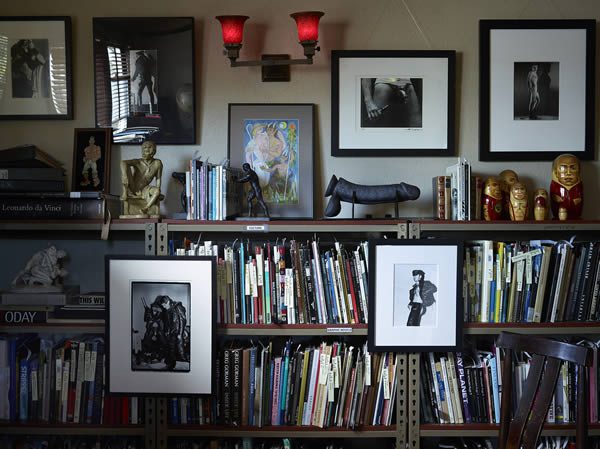 Out of the forces, and the closet, Touko Laaksonen's work would remain a specialist's preserve until the liberalism of the 1970s, at which point the artist's career would rise and rise until, and beyond, his death in 1991. He would spend the last decade of his life living and working in Los Angeles's Echo Park, in a home that epitomised his unconventional outlook on art and sexuality.
If you hadn't guessed from his artwork, Laaksonen's rousing abode really rams it home: that boy loved cock. The male genitalia is revered in each and every corner of what is officially known as Tom House, 1421 Laveta Terrace; drawings, paintings, photographs, massive sculpted ones on the fireplace. An eye-opening new publication from Rizzoli New York, Tom House: Tom of Finland in Los Angeles by Michael Reynolds, lets us in to the home still occupied by the men who resided there with Laaksonen, the now headquarters of the Tom of Finland Foundation. This is a very different edition of Through the Keyhole.
Michael Reynolds was part of the original team who launched Wallpaper* Magazine, and is a contributing editor for Architectural Digest, the author is joined by Mayer Rus — who contributes an essay delving into the private life of a true art world one-off — and photographer Martyn Thompson, whose revealing images give us unrivalled access to the unabashed lifestyle that inspired an artist who will never be equalled.