Do you like scuttling around abandoned places? I do. Just thinking about the idea gets me excited. How do you feel about the notion of getting lost deep underground, before stumbling across a cordoned-off, abandoned Victorian Tube station beneath … San Francisco? My pulse is racing. And what if you could do all of that with a glass of the finest gin in your hand? From a choice of 350; vintage and rare examples dating back to the 1930s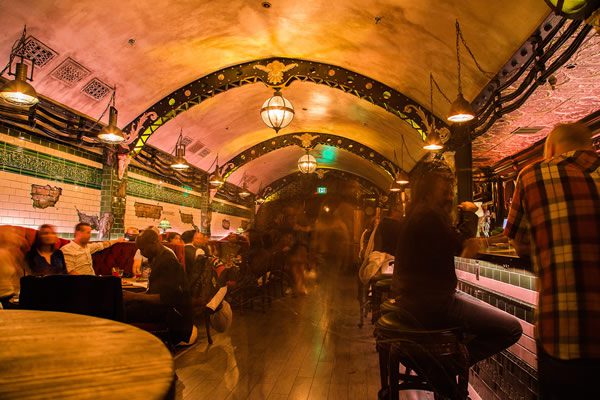 Hello Whitechapel. Where have you been all my life?
The three visionaries who came up with this innovative concept: Alex Smith, Martin Cate and John Park. They teamed up with Ignacio 'Notch' Gonzalez, who also designed Martin Cate's Smuggler's Cove in San Francisco. And didn't he just executed this idea to perfection?
From idea to conception, it was in no time that this private club and gin distillery became one of the hottest places in SF. Not quite a distillery — it's an ima-gin-ary one — all is replicated with fanciful steampunk romanticism.
I'm someone fascinated by visual beauty; a person, an art piece, a place … it's all hidden in the details. Here I'm in awe of Whitechapel's architectural aesthetic. Look at the details on the walls; authentic acanthus tiles, the ones designed by architect Lesley Green in 1908 for the real London underground, exactly replicated for restoring historic stations. Look at the ceiling above the bar. And what about those two boards with the train times … don't get me started on the lighting.
Gonzalez has created an adult theme park, a precedent in immersion. Famed for its hippies, for Bullitt, for the tech revolution; San Francisco's residents can now revel in another famous city's history … and have themselves a good-ole knees up. Cheers!