Mr Miyagi always looked the sort to abstain from any vices, although it seems that when Mrs Miyagi's back is turned the crafty old bugger looks to his young mistress Yukie for kicks. Wax on, wax off indeed. Seductive Yukie revealed herself to Melbourne recently; the folk behind Windsor's hit eatery Mr Miyagi responding to public demand with an all new spot for pre-dinner cocktails.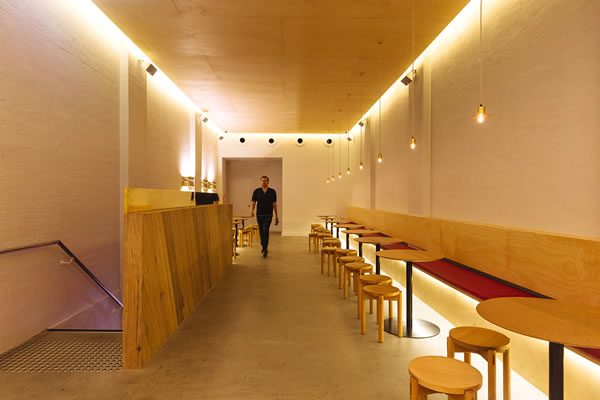 Yukie's Snack Bar takes its cues from Miyagi's, bite-sized treats inspired by the latter's contemporary Japanese menu accompanying innovative cocktails — raspberry and tonka bean margarita with black lava salt; salted watermelon martini — in a space that is altogether more feminine than its neighbouring counterpart.
Designed by P-E-K STUDIO, the former gallery retains a calming, artful look — reflecting, as they say, "Yukie's vibrant and sophisticated style". Mr Miyagi wouldn't settle for any old mistress. The art inflection continues with a neon installation inside, and an anime-style commissioned piece from street artist HEESCO on Artists Lane outside — to which Yukie has a back-facing view. Fix up, look sharp … Yukie awaits.