As far as albatrosses around ones necks go, being an unglamorous ex-Premiership footballer is surely right up there with being posh in the world of street art. I can't help but feel if Eric Cantona was to be caught tagging a bridge over the Seine, few would flinch. There'd be plenty of attention, and the King would be quickly shipped off to a fancy gallery in East London. But a centre-back stalwart of Sunderland and Wolverhampton Wanderers?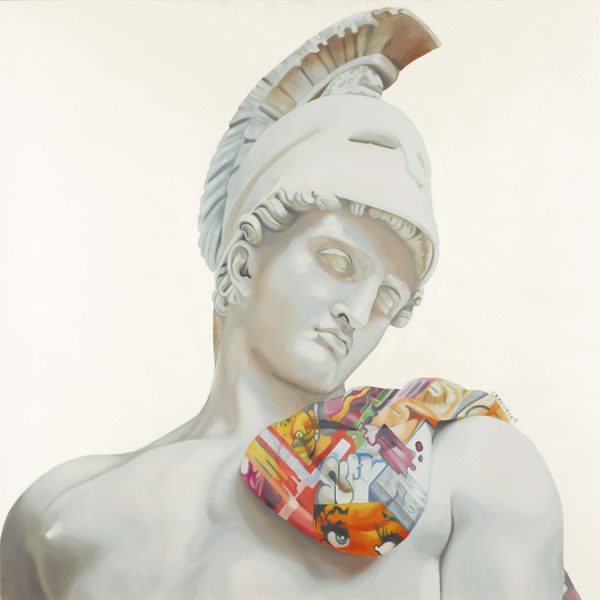 Jody Craddock might not be getting his hands dirty with a can of Montana Colors spray paint, but the footballer-turned-artist demonstrates his awareness of where the art world's eyes are turned in his 'going serious' collection, Le Bellezza Della Fusione. A bit like Justin Bieber turning cool, this collection of defaced Renaissance statues is Craddock dropping portraits of fellow pros in favour of a more discerning assault on the art world.
Le Bellezza Della Fusione is actually kinda impressive; if a tad formulaic, in its overt influences from the likes of D*Face or Banksy (particularly the latter's Banksy versus Bristol Museum exhibition). But throughout, the former Wolves captain demonstrates a nimble touch with the brush that belies his old-fashioned approach to the beautiful game.
Debuting his new direction far from the white walls of a Dalston or a Hackney Wick (at a market town gallery in Leicestershire), it's hard to escape the belief that Le Bellezza Della Fusione may have more impact under a pseudonym — but, for a Midlands man who began league football at Cambridge United, and made 577 steady appearances over 20 years … you wouldn't expect anything less than doing it the hard way. Well played Jody Craddock, my son.