Nestled in the heart of one of the world's most bustling cities, Bandol promises an escape to the rural idyll of southern France in menu and environment. Speaking of her passion for the Provençal region, co-founder Sylvia Kontek paints an appealing picture with her memories of "the rolling landscapes, vibrant lavender fields, the coastline — and of course the cooking".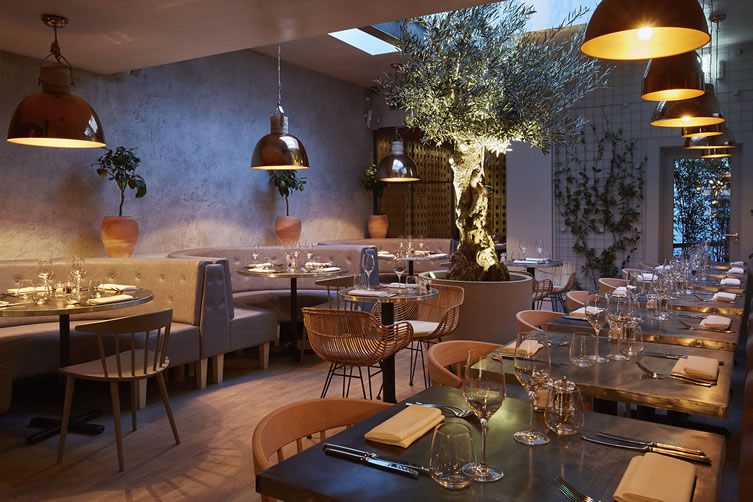 At Bandol (sister restaurant to Margaux), 10-year Scott's veteran Zsolt Ferencz has produced a menu which sings and sighs with the heady flavours and aromas of Provence and the southern coastal towns, while it has fallen to Kinnersley Kent Design to conjure the essence of the region's ambience in an urban context.
Here in Chelsea, Provence meets the French Riviera — the latter providing a dash of high-end glamour in keeping with the upmarket London neighbourhood, balanced against the former's honest rusticity. Chief among the eye-catching features is the coruscating copper bar top stretching through the restaurant's front section, overhung with smoky blue and gold glass pendants. The luxuriant metal is echoed along the back wall in two-person tables; others are topped with zinc. A curtained entrance leads back to the restaurant, whose gently-illuminated space is anchored around an attractive olive tree, with smaller clementines dotted around the perimeter in Mediterranean terracotta pots. Two private dining rooms are hidden away at the back.