You know Liu Bolin. He's the Chinese artist who looks like a graffitied wall. And an aisle of soft drinks down the supermarket. Or a cubicle office. Commencing his chameleon career in 2005, with the genesis of his ongoing Hiding in the City project, Bolin's practice has been fuelled by the advent of widespread image sharing; such is the impressiveness of his shrouded self in countless works over the ensuing decade.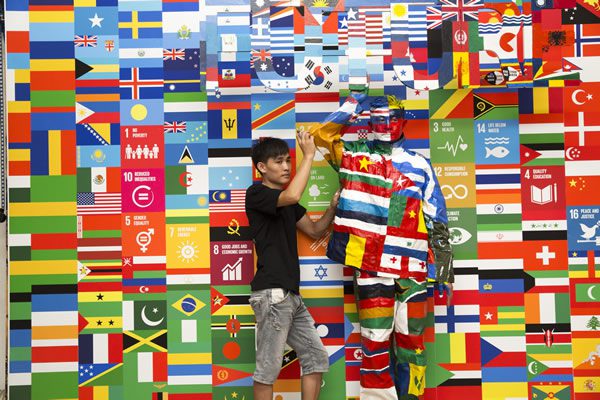 Like all upstanding figures with a high public profile, Liu Bolin recently worked on a marketing campaign to draw attention to a good cause. Except Liu doesn't have a public profile, does he? In lieu of having an instantly recognisable persona, the artist — who's been dubbed The Invisible Man — simply did what he does best to draw attention to the United Nations Global Goals campaign.
With 17 goals aiming to combat extreme poverty; inequality; injustice and climate change, the UN are calling it 'the biggest campaign of all time', with the aim of reaching seven billion people in seven days from 25 September. Buoyed by the challenge, Liu was keen to get on board; "We can't stand idle around these issues. We need to do something. Art cannot change the future, of course, but it can touch the present" his rallying call. Except he did stand idle, and heavily camouflaged in front of the 193 United Nation countries' flags. But what's a little hypocrisy amongst friends?
Frankly, Liu Bolin does standing idly better than anybody I know, and these behind-the-scenes images from his work The Future give just an inkling of a glimpse into how much goes into his famous images. Stellar work, for a stellar project. Bravo!