Look, I'mma lay my cards on the table; any prospective David Koreshes out there looking to recruit somebody like me into your sect … crab talks. A devout atheist, this boy only need catch sight of a deep-fried soft-shell crab and prayers are being said. Praise be the crustacean splinter group, we can be at one with our indulgence.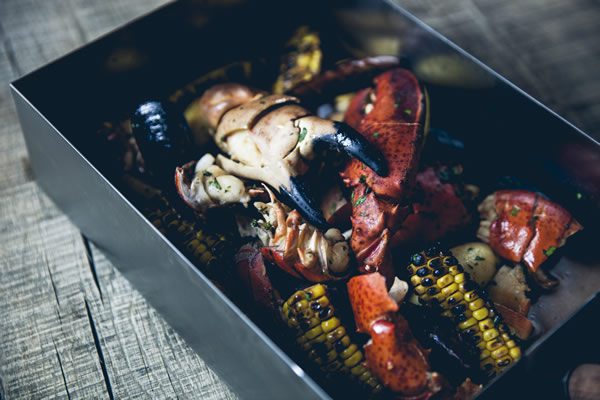 Perhaps not quite on the level of a fanatic faction, there are definite alarm bells for me in new London eatery Crab Tavern; restaurateur Igor Krayushkin's background is in luxury establishments in both his native Russia and Dubai, and it is located within the new dining Mecca of bankerdom — Broadgate Circle. But preconceptions aside, I am easily swayed by crab. Crab. And more crab.
Overlooking press release keywords — cosmopolitan; lively; trends — dishes like Singapore Crab; Soft Shell Crab Burger and West Coast Bucket Boil (an opulent marriage of crab claws; mussels; lobster; potatoes; merguez sausage and sweetcorn) easily diffuse images of boastful stockbrokers and over easy Brylcreem.
Crab Tavern's interiors border industrial and fancy, and evoke the Americana upon which much of its menu is rooted — a faux rusticism may find itself a target for my scorn in many other circumstances, yet here I believe. I believe. Hallowed be your claws, your soft-shelled, deep-fried claws. Deliver us from evil. But please Lord, indulge me in my sins.