What has Kim Kardashian's arse and a big juicy burger got in common? You want to take a bite out of them? Oh, I do say. WRONG. London's Yeah! Burger claim their famed Scotch Ness Monster scotch egg burger as internet-breaking; the term that KK's bum coined last year. I shan't be arguing specifics with anybody demented enough to put a burger inside a fucking scotch egg, so that's what it is. Internet-breaking.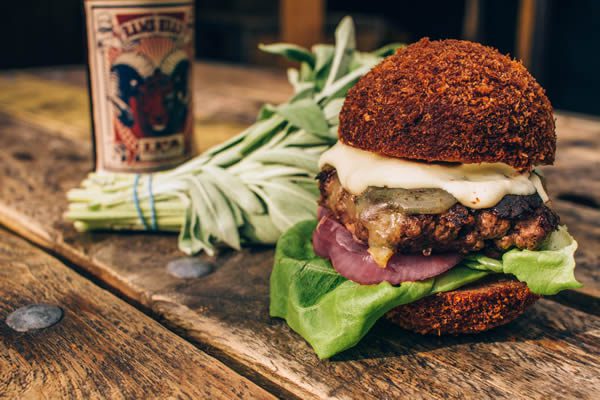 As far as hipster food hybrids go, I can warm to a scotch egg burger more than most — as anyone whose experience with the quintessential British snack goes further than motorway service stations and family weddings will contest, scotch eggs are the food of gods. Burgers run a close second, so dishing the two up together is A-OK with me. 👌
Celebrating this month's Edinburgh Festival Fringe (in London), Yeah! Burger are dishing up a special menu at their two usual residencies: Shoreditch's Strongroom Bar & Kitchen, and King's Cross boozer The Star of Kings. The aforementioned internet botherer will be joined with three new options including a vegetarian-friendly (eww) option.
The Marco Polo: Aged Beef, Manchego, Lemon Aioli and Rocket, encased in a Chorizo Scotch Egg
The Dragon: Lamb Patty, Caramelised Leeks and Clamato Beurre Blanc, encased in a Haggis & Kedgeree Scotch Egg
The Glaswegian: Buttermilk Fried Tofu, Kim Chi and Wasabi & Nori Mayo, encased in a Mushroom & Quinoa Scotch Egg
Get your choppers around one of these sadistic little numbers before 22 August.