For a car as breathtakingly impressive as the new Ford GT, simply putting it on a podium at a motor show just doesn't cut the mustard. Supercars are rare things, rarely-seen and when they are, gone in a flash. For some time, Ford has been looking at ways to reach out beyond the auto show event halls to engage with the public in new ways — particularly in the area of design — and the American giant invited us over to the Salone del Mobile furniture design expo in Milan this week to see its most ambitious crossover project to date.
In the Piazza San Fedele, visitors to the expo were greeted with the monolithic might of FAVILLA, Every Light a Voice, an installation by architect Attilio Stocchi that explores the relationships between an object and the viewer through the movement of light. Favilla translates from the Italian as "spark" — a word synonymous with both light and the internal combustion engine — and this installation inspired by 2015's designation as International Year of Light and Light-Based Technologies begins with seemingly abstract light show. Through skilful manipulation these light shapes gradually become more recognisable until the display achieves a cohesive form and takes shape as the sculptural Ford GT supercar.
Inside the gargantuan black box things remain abstract, with a 10 minute light show — are we inside the GT's V6? The voiceover is in Italian, who knows. I do know that it is a superbly immersive experience seeing Stocchi's creation in the flesh, and crowns an important show for the design team at Ford. The motor industry's creatives have been interested in product design for a while now, and Ford are one of the driving forces in this crossover field. Having previously exhibited lifestyle collections at Salon del Mobile, Ford returned this year with an even greater presence, hosting a panel on future design trends and unveiling several surprising non-automotive design objects based on three key principles: clarity of intent, innovation and connection.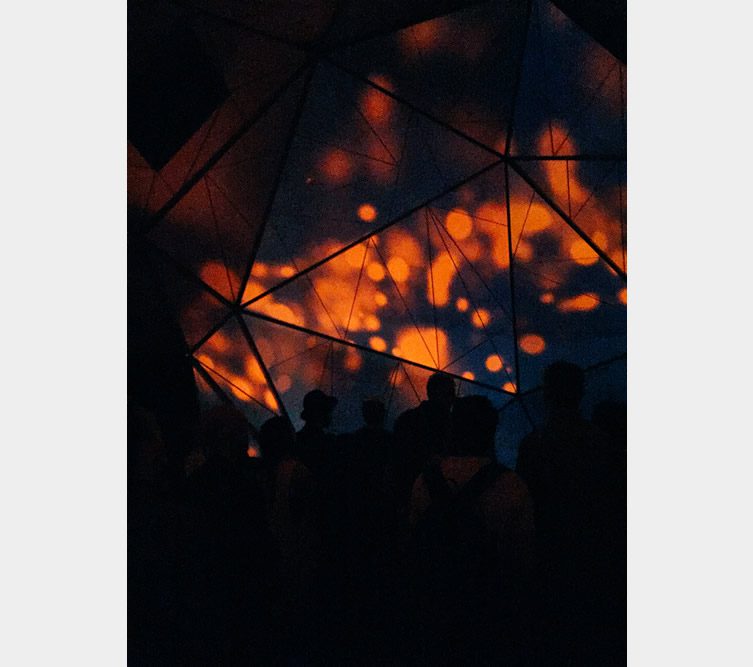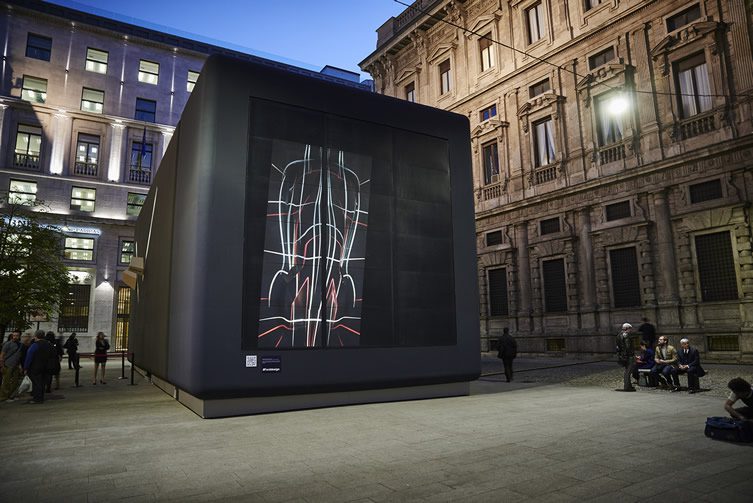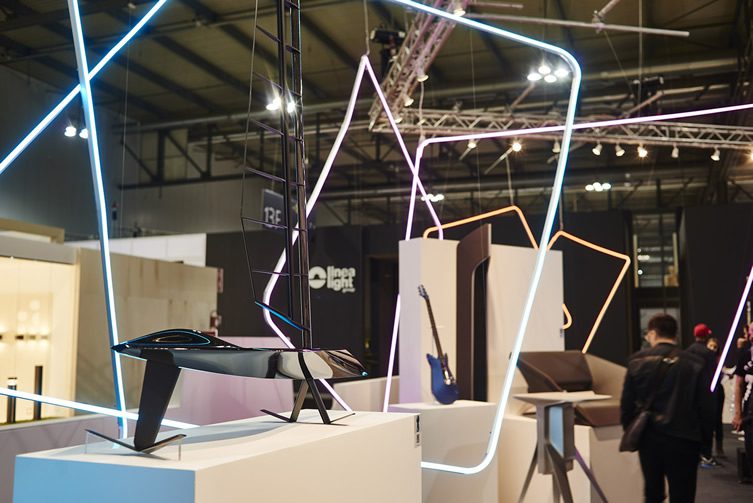 Ford's design team in Irvine, California, presented one of the most unexpected yet eye-catching objects in the company's showcase. Their metallic guitar features an exaggeratedly elongated neck to allow maximum arm movement when playing, carefully considered use of aluminium and wood to reduce weight while retaining optimal tonal quality, and a streamlined look achieved through relocating the tuning mechanisms to the bottom of the headstock.
The aerodynamic contours of automotive design are combined with the principles of car interiors by Ford's Melbourne team as they re-imagined a classic chaise-lounge. The streamlined shape was designed to fit the user's body, with a felt coating softening a hard shell, and a secondary layer peeling away to reveal a lipped storage space beneath. The painted gloss finish suggests strength, despite an extremely lightweight structure. Elsewhere, a nifty foosball table promised real grass to play on — its design heavily influenced by auto interiors.
For the team at Ford, it's not simply a question of applying automotive design principles to object design, or vice versa. The two fields exist in symbiosis, with innovative research methods being employed in both fields in order to push forward the vehicle customer experience. Research being conducted at Ford labs is using eye-tracking technology to monitor particular points of visual interest and importance, noting where the eye lingers most and least, as well as gathering other biometric information to guide interiors development on an emotional level.
Although the information gathered is already being used across Ford's entire range of vehicles, there's no doubt that the high-end models such as the extraordinary Ford GT are at the forefront of development. Yet the trickle-down effect is clear, and through events such as the Salon del Mobile expo, Ford is developing a holistic design strategy that will be as integral to the humble Fiesta as it is to that model's supercar cousin.