On our mini tour of the south east coast of Ireland we stumbled across Dublin's hip shopping strip – Drury Street. A place for independent salons, tailors and design stores, we spent some time browsing the refreshingly honest products in the Irish Design Shop. Catching my magpie-eye were geometric wooden kitchen accessories by Saturday Workshop, handmade earthenware jugs by Andrew Ludick and various books, prints and stationary. We found a generous mix of cool contemporary and traditional craft products.
Established by jewellers Clare Grennan and Laura Caffrey to showcase Irish craft and design, the ladies felt so passionately about the new breed of designer/makers turning their hands to design-led products that a 'shop' was born in 2008. With a handful of pop-ups, fairs and an online retail presence under their belts, the duo's permanent Drury Street home has just celebrated its one year anniversary. The wares exhibited at Irish Design Shop embrace traditional and new techniques, and there's a fully operational workshop upstairs to boot.
We spoke to Clare and Laura about the revival of Irish craft and design, looking forward, and whom we should be casting our beady design-eyes upon…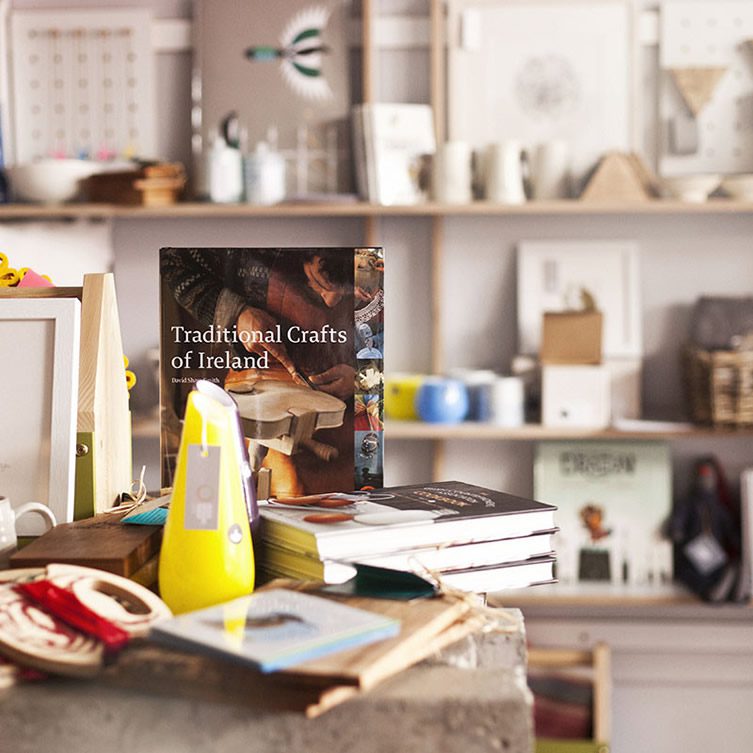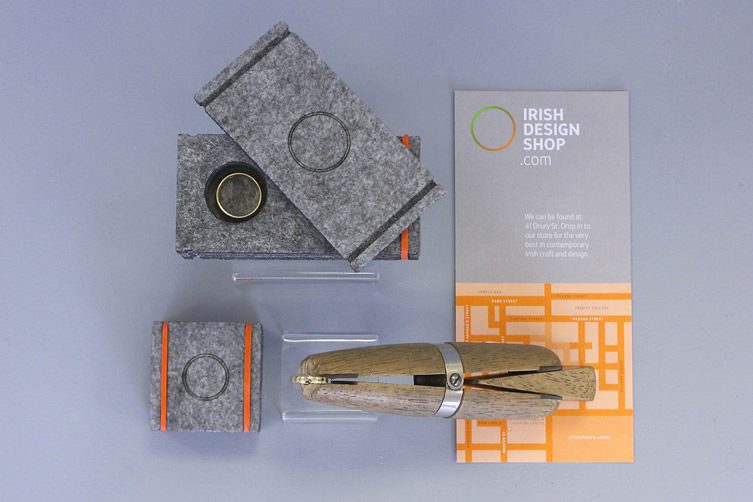 So why design products? As jewellery designers, what made you diversify and set up a collective shop?
On graduating from metalwork in NCAD, way back in 2002, we started selling at various weekend markets in Dublin. We started building a network of like-minded makers who were producing design-led craft across a variety of disciplines. During this time (the height of the Celtic Tiger), there were very few independent shops in Dublin. There was no retailer supporting emerging Irish craft workers so we decided to do it ourselves, and in 2008 we launched Irish Design Shop. 
How do you select the products and designers you showcase? Is it more about the craft or the design?
It's both. Craftsmanship and good design go hand-in-hand with a successful product. Many of our suppliers use traditional Irish craft techniques and materials, sustainability is a large factor too. Our customers respond well to traditional craft items, presented in a contemporary (I hate that word) way. We also stock work from suppliers who utilise new technologies such as laser cutting which enables them to produce large volumes of an item at affordable prices.
In general, we stock products that we would buy ourselves and which we love! We do like to keep items within specific price brackets, offering customer choice from small items between €10 – €35 and larger items between €35 – €200.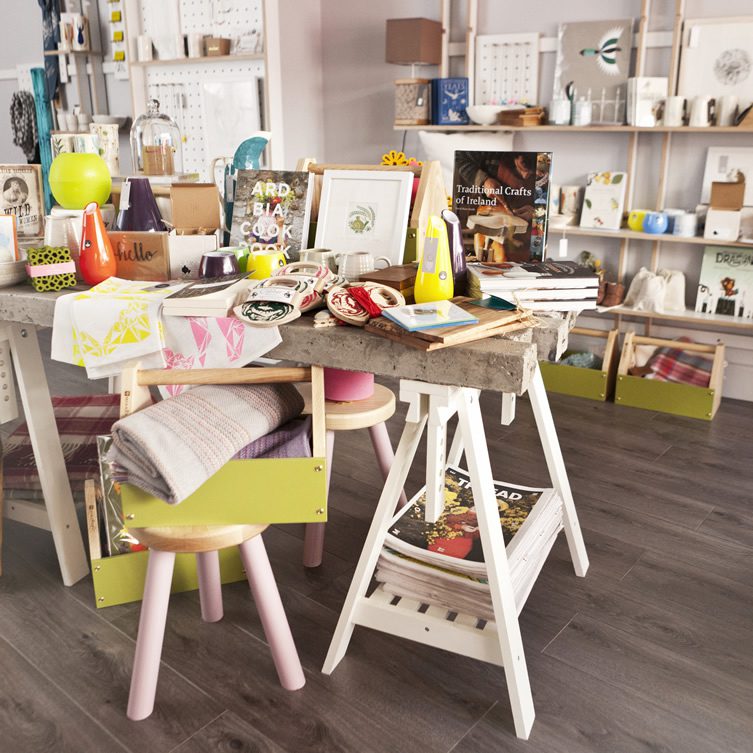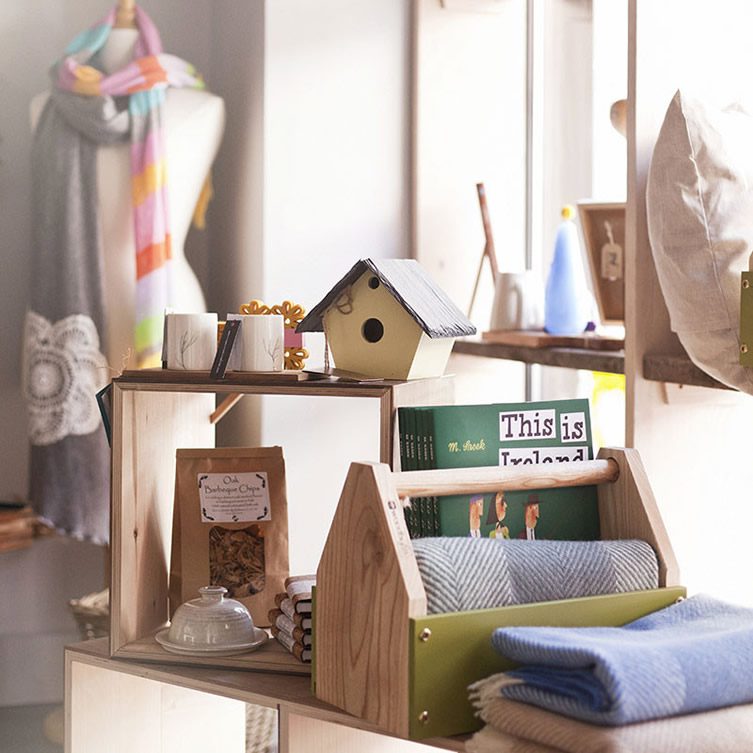 Is Irish craft and design still seeing a revival? 
Absolutely! There's such a variety of products being made all over Ireland, not just in the cities but in rural locations. Makers are now aided by the internet to distribute their work, source new stockists and grow awareness of their brands from rural studios. Makers are also more design aware and more commercially savvy. We are finding many designers are exchanging skills and working collaboratively, say on branding and packaging. 
Can you tell us more about the workshops? What compelled you to host these? 
We always had a metalwork studio alongside our shop, so really it made sense for us to conduct jewellery classes, particularly financially! At this stage, we get mostly return students who have a specific project in mind, and just need guidance to complete it. Both of us have teaching experience, so it was just building up the confidence to conduct weekend classes ourselves that was the biggest challenge. We host about one class a month, and get such a mix of people, it makes it more interesting for us. 
Our 'make your own wedding ring' workshop has really taken off in the last couple of years. We cater for one couple per weekend, and make bands to their design, in their chosen metal, either silver or gold. We can also recycle gold jewellery into finished bands. We did that here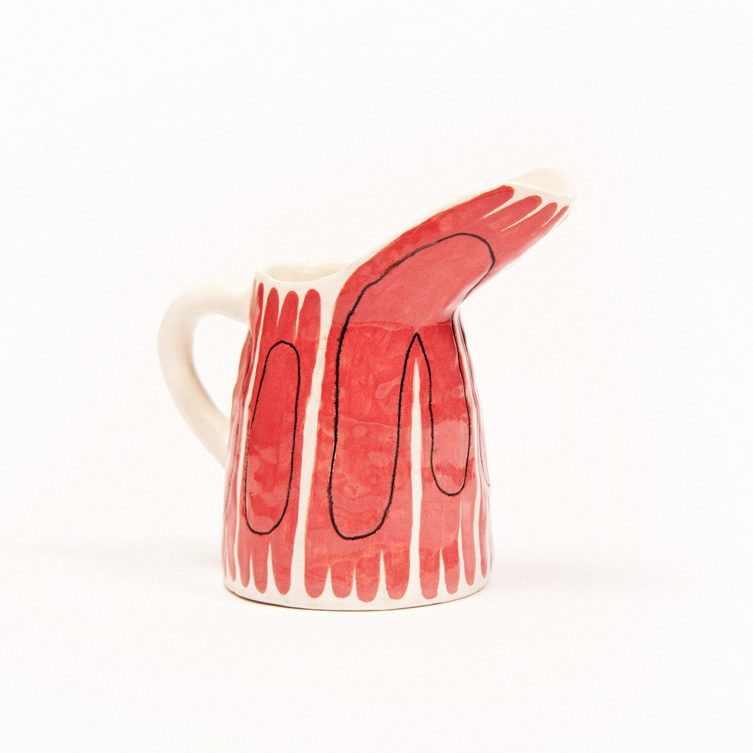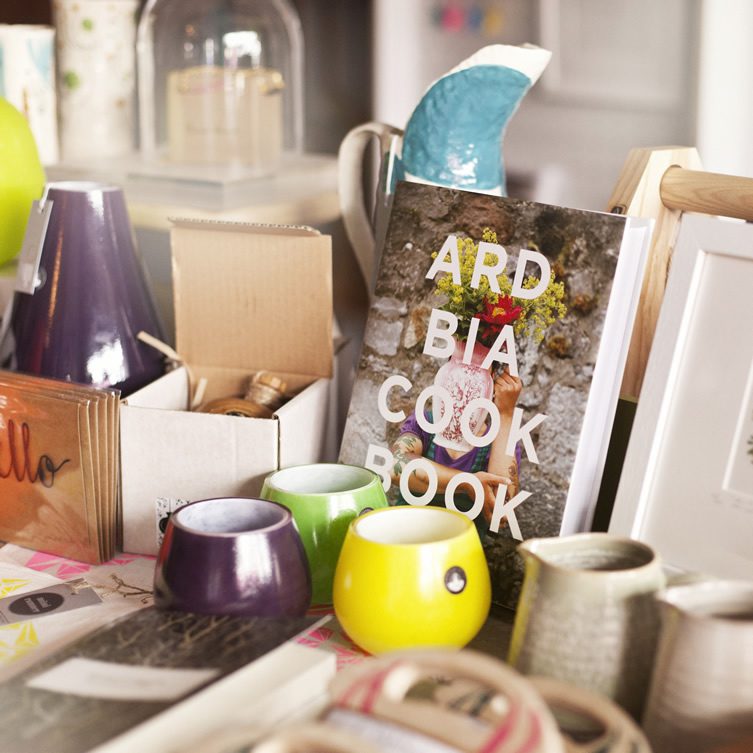 What's on the cards in terms of the future? More shops? International showcases? 
2015 marks the Irish year of Design. We have plans for this which are at the very early stages! Currently, we are looking for a partner business, say in Helsinki, of a similar scale, selling similarly well-designed craft products, to do a 'swap shop' with us. Basically, swap shops for one month. We set up in their shop, they set up in ours! We love the idea, it's just figuring it the logistics, lots of planning! We are also working on a pretty major project at the moment. (In September we will be launching this officially). 
Over the Summer, we are taking over a concession in a major Irish department store, so that's exciting… We're also busy designing a cloth-bound, blind-embossed notebook with Dublin designer Fergus O'Neill. Traditional bookbinders Duffys will be producing the finished design. This notebook will be available from September. We will be launching this product along with our first calendar the same month. Our idea is to work collaboratively with a different graphic studio/individual every year to produce an annual calendar. The 2015 version is by Cork based illustrators The Project Twins.
On the whole, we want to recruit new makers, and continue to promote Irish craft and design.
Can you list three up and coming Irish designers and makers that we should be keeping and eye on?
1. Amazing knitwear by Honor Fitzsimmons
2. Beautiful new homeware designs by Ail+El
3. Hard-wearing backpacks and accessories in the west of Ireland by Atlantic Equipment
Lastly, outside of designing, curating and generally doing all this to champion Irish craftsmanship, what do you both like to do on your days off.
Where do we start? We do like to head out into our surrounding area for pints, mostly with the other people in the building here. When we do have a day off, we like to catch up with our friends mostly. 
In Dublin we are pretty fortunate to have the mountains and the sea on our doorstep. Hiking in the Wicklow Mountains any time of year is an absolute joy. Cycling the coastline between Dun Laoghaire and Howth is pretty lovely, as is a trip to the Phoenix Park for a picnic. We do work hard, so take advantage of our days off! 
***