GamFratesi was founded in 2006 by Danish architect Stine Gam and Italian architect Enrico Fratesi. They were Stockholm Furniture Fair Guests of Honour 2014 and I pinned them down at the fair to find out more about how they work, how their different countries of origin affect their work and what they're most proud of…
"We make products that combine quality, intimacy and communication – we like to bring those three things together. We really need to make products that will have a long life. You can feel that our products have that quality when you use them – you can really enjoy that. Intimacy has always been a key part of our work as well. We try to find small spaces where you can suggest intimacy, reflection… We are very disturbed in modern society. Sometimes it's a sofa, sometimes it's a desk, sometimes it's a chair, but you will always be embraced in a way. And communication between the product and the user is important, because when you get into communication with the product you start to love it, you start to keep it. If you keep it for a long time, it becomes more sustainable, because you're not going to throw it away. We never think of a product by itself; we always think of a product in the context of people. A product by itself doesn't make any sense; it's just a sculpture.
"The combination of material, of functionality, is very connected to being Scandinavian. We live in Copenhagen and many of our clients are Scandinavian. The Italian approach is more about the concept and every time we have a project, there is always a very strong concept or ideology behind it, and that's probably the intellectual part, but the execution is perhaps more Danish. If you look at some of the classic Danish chairs from the masters, they don't even have a name – they have a code. It's all about function and material – they're extremely functional. Whereas we have a concept every time and that's why it's interesting. In Italy it's more important to have an innovation of the product or the concept, even more than the function. So although they look more Danish, the whole is a combination of the two.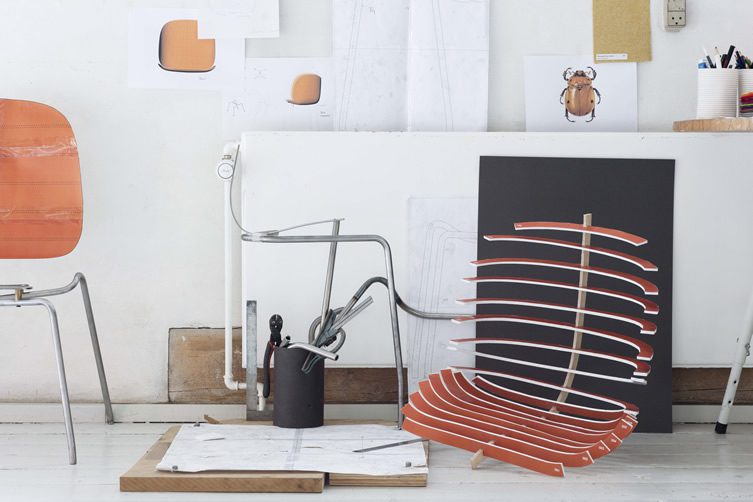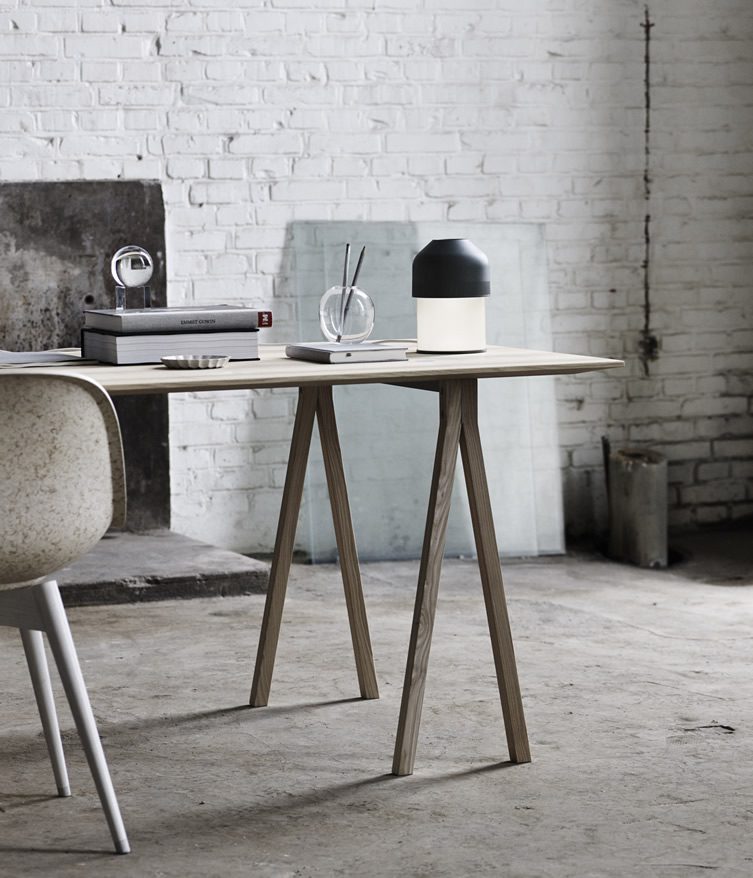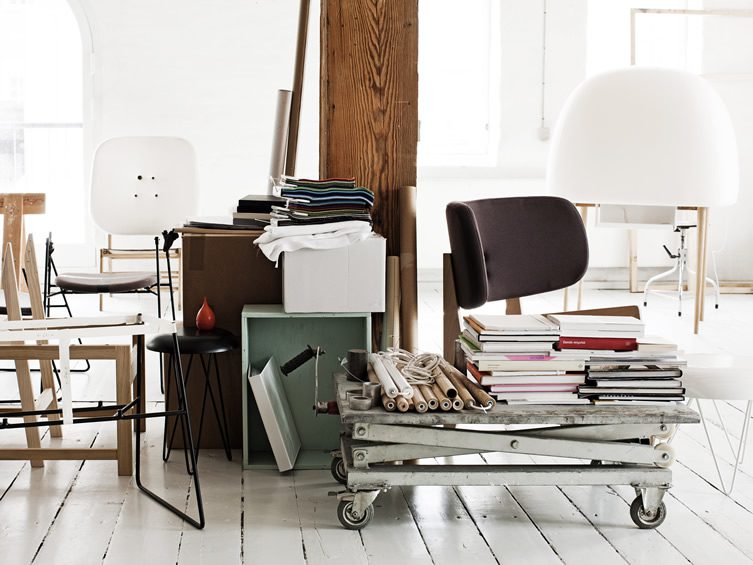 "Art is a big influence, and sometimes it's not just the artistic piece, but the mood behind it, the thought of the artist. Or even poetry might set the mood for a product. Even a simple gesture we might bring to a product. Even if the product ends up being very industrial, we've often been inspired by art, but always something outside design, whilst being aware of the heritage of design.
"You need to have a lot of passion to be a designer. It's hard work and you work a lot in isolation, so you have to really want it. It's important to be curious. It's important to go to shows – to come out of your isolation and grow and see people's reactions to your work. To have both critics and comments is important for growing and for learning.
"We are lucky that we are a couple, so we can share everything. That helps a lot and if you share in a nice way you can really grow and develop a lot of things. It is extremely interesting, the way that a couple like us and a relationship like ours can bring everything to another level.
"We work mostly together, because we have this relationship in work and in daily life, so it is difficult to divide. We have different backgrounds and we have different skills, so we well work together.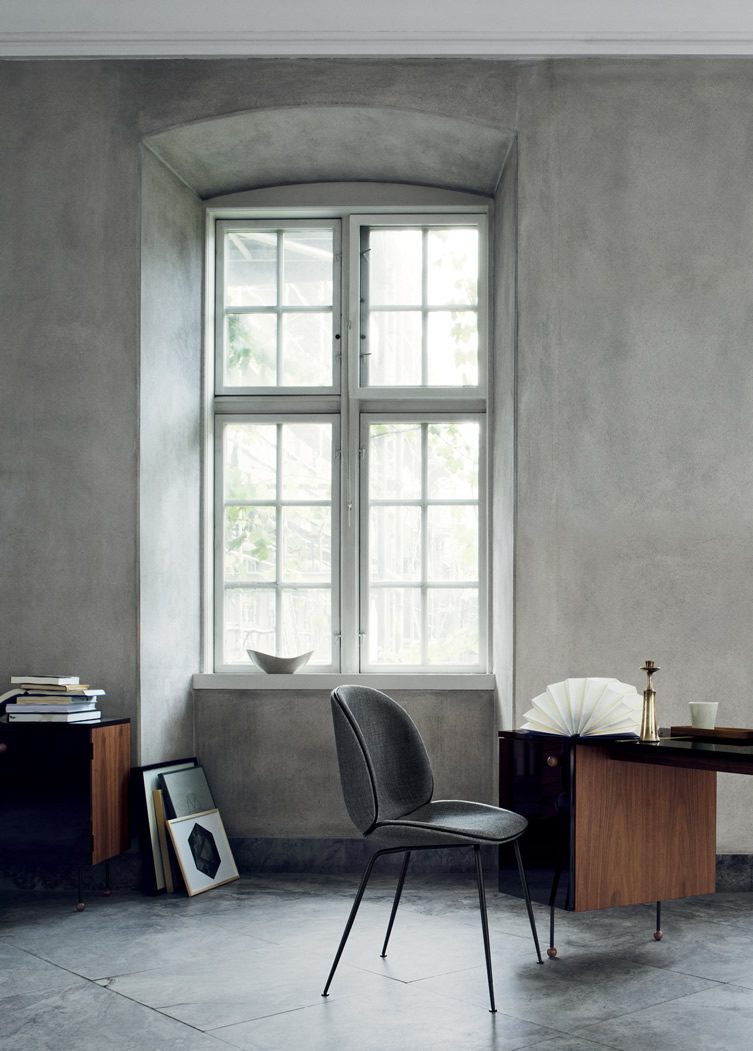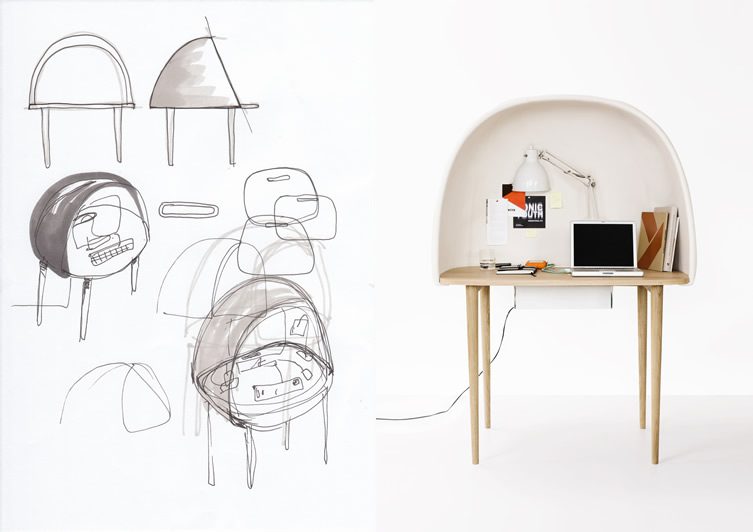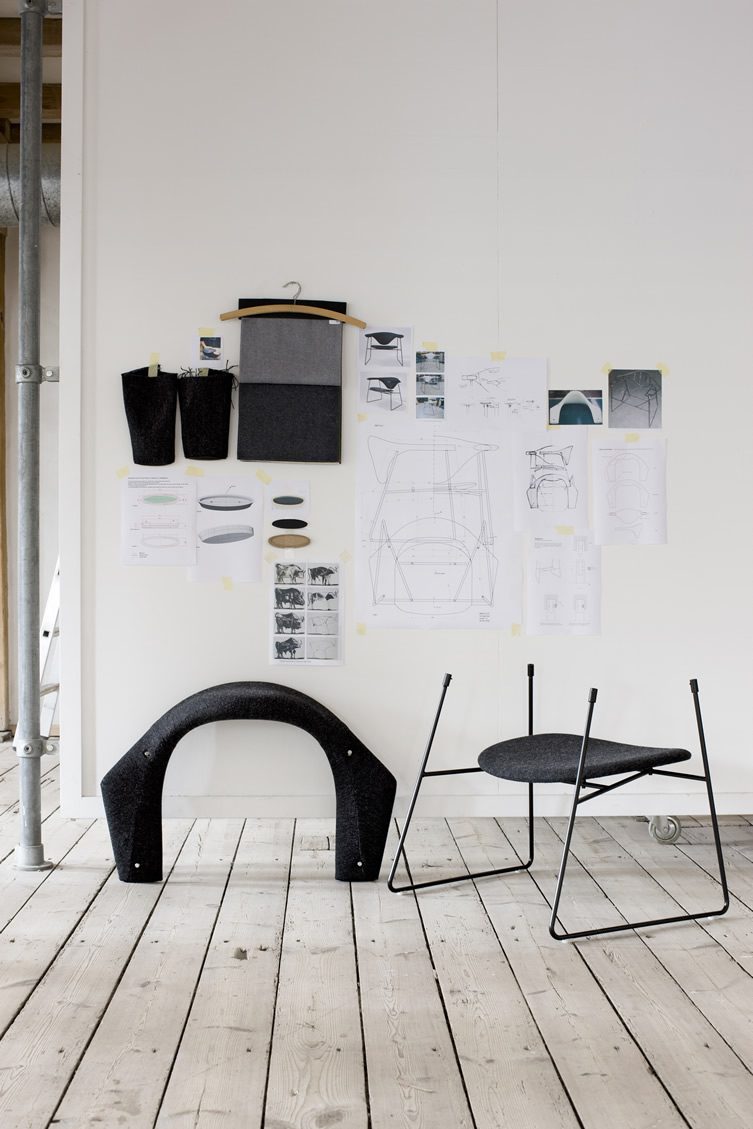 "Everything we do starts with talking – we begin by talking a lot, so we talk, talk talk… Then when we're done talking, we draw – sketching and sketching… And then we start modelling. Once we've got a model, we go into 3D which is really at the end of the process. Sometimes we don't even go through 3D, we have a physical prototype which we have to scan to create the tools. It depends on the projects – some of our projects are more crafted, so they really have to be created by hand. But even if things need to be more technical, we tend to have the physical process alongside it. It's so important that the details are precise. We always want to think through every detail before we brief the manufacturer, so it doesn't become a compromise later on. We always do prototypes before that, to discover anything that might become a problem or a challenge.
"We love all of the products that are in production. We achieve a very good aesthetic and the quality is high – you can feel that in the product. If we're not satisfied with a product, it's not in production. We understood immediately, that if you're not happy with the production it's better to stop in the middle. It's happened many times with products we've had in development that just weren't going in the right direction, so we've decided to quit. It can be difficult to make that decision after you invested time and effort and money into something, but if you think that it would stay around forever and you don't like it, that would be worse. In that case, it's better to say that we tried and it didn't work, so we stopped. Sometimes it can be brutal, but it's better."
***