I've been dreading this review, every minute since I stepped through the doors of Passeig de Gràcia 113, Barcelona. Is my thesaurus laden with enough superlatives? How best to not give the impression of a gushing sycophant? How to do justice with words to what my eyes saw over the course of 17 perfect hours? Occupying an early 1900s art nouveau building on Barcelona's swankiest street, El Palauet is as magical as a hotel I've stayed in, and that sentence alone could be the beginning, middle and end of this review. If only.
Nay, I must torture myself some more, I must dig deep for adjectives that can sit side by side with the images in this piece. It's the price I must pay for such experience. Exquisite, divine, ravishing. El Palauet is a grand dame of Hollywood, a Hepburn, a Bergman, a Taylor – it has the looks, it has the style, it has the class. It deals knockout blows like a young Mike Tyson. It has the poise and presence of a Marlon Brando. The breathtaking modernity of an Alexander McQueen. Ornate period features are juxtaposed by bracing contemporary design, muted colour palettes of the bedrooms offset the rich dark wood and art nouveau lighting in the communal spaces and hallways. But like those golden era greats, El Palauet is not just a pretty face…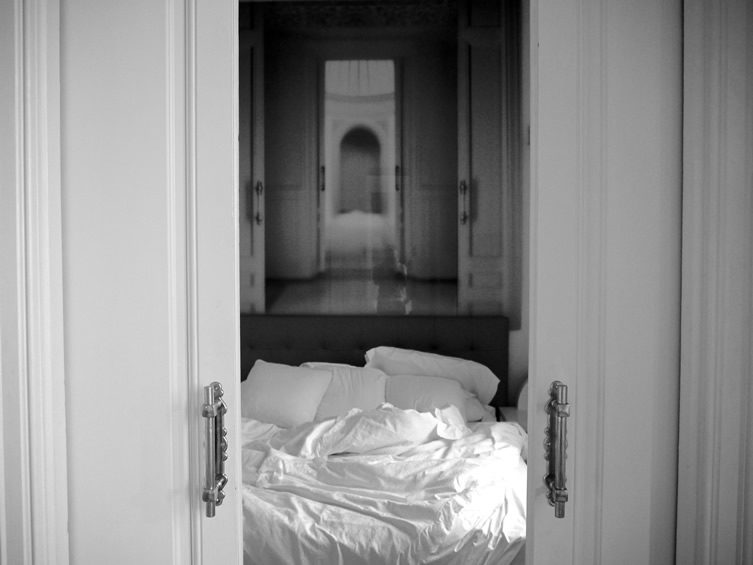 How about a personal assistant at your beck and call? A chromotherapy shower (that's washing yourself in a disco to you and me)? A Japanese toilet to take care of your undercarriage? Multi-room audio system with decades of music to browse through, mirrors that turn into TVs, games consoles, iPads… a bloody private chef to come along and cook you dinner in your fully-stocked kitchen? There's a roof terrace with water beds, a sauna and massage rooms – just give your personal assistant a call, the masseuse will be with you in no time. I get the feeling I could have requested ten dwarves and a bowling ball and nobody would have batted so much as an eyelid.
So much to do, but I'm still lying on the bed, staring at the ceiling. It's changing with the light outside, contorting, growing. It's magical. Beautiful. Apparently I need to leave however, we're giving the private chef a night off and heading out for some tapas. El Palauet sits at the top of Passeig de Gràcia and is just a short walk away from bohemian Plaça del Sol and its surrounding streets, it's nice to balance a lot of luxury with a little edge, and this is the perfect spot to do just that. Besides, you won't want to go far, El Palauet is calling, you're a damn fool for leaving in the first place, get back, pull some drinks out of the fridge and put your feet up. Stare at the ceiling.
We drift off in one of the suite's two bedrooms, but dreams are nothing compared to this reality. Your dreams simply aren't sophisticated enough to visualise what the design team at El Palauet have already done to the building architect Pere Falqués saw built in 1906. Dreams are useless here. As such, we wake up early, tormented by the reality that checkout time is looming. Alex, he's our personal assistant, gives us a call to check what time we'll be vacating the room. Bitter reality sets in. Someone asks me when I'm back home what I thought of the experience, "I HAVE NO WORDS" is all I can muster. If you've got this far, you've read almost 600 of them, but not one, not one single solitary word, has come close. Perfection just got upstaged.
***