A sleep deprived 72 hours at Sónar 2013 having finally taken its toll, we upped sticks from our L'Hospitalet de Llobregat outpost and dragged our weary selves onto the living quarters we'd be occupying for the next two days; the delightfully small but perfectly formed DestinationBCN penthouse apartment located within a sizeable art nouveau building close to Plaça Catalunya. Founded in 2000 by Dutch designers Anne Nijstad and Miklos Beyer, and dominating its building with 11 one and two bedroom pied-à-terres (and two more close by), DestinationBCN is where couples, groups of friends and business types in the know choose to bed down; innovative and chic, it's city living at its best and not long until we're feeling more as though we're house-sitting a friend's urban crashpad rather than staying in 'another' boutique hotel.
Ours, the one-bed, one-bathroomed Naoko, was flooded with natural light thanks to a floor to ceiling glass door which lets in the Barcelona sunshine whilst making the accommodation feel somewhat larger. Nijstad and Beyer have worked well with the space; the flat screen LCD TV hides behind the doors of a sliding wardrobe where there is also ample room to store clothes and cases, the kitchen is practical and well stocked – tea, coffee, oils, herbs and a bottle of cava are provided complimentary – and we found the breakfast bar the perfect spot to set-up the laptop for a little of the unavoidable W word…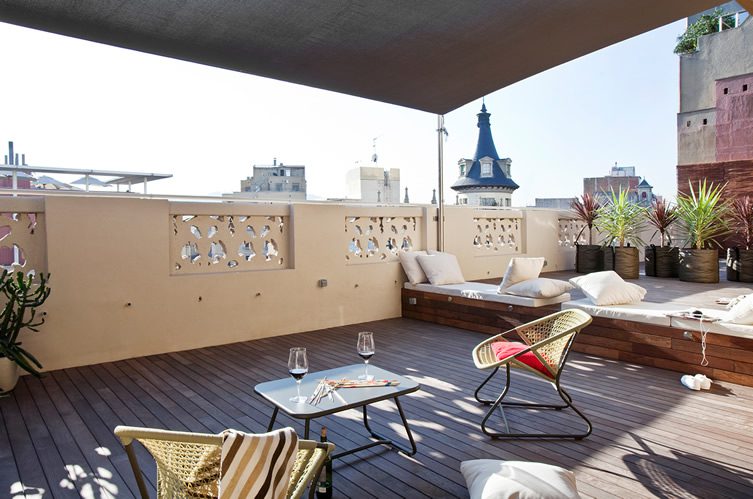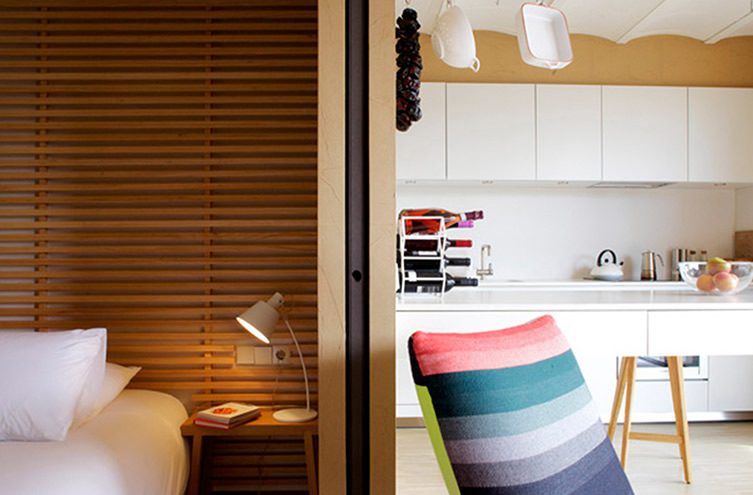 The neutral colour scheme is stylish and subtle, offset by some seductive blacks, pinks and lime greens courtesy of a duo of beautiful armchairs. Crisp white cotton bedsheets contrast the dark woods of the wardrobes, tactile wallpaper and light wood panelling add interest, and the bathroom harks back to the building's history; original floor tiles are a nice little touch. Naoko's private terrace is definitely its crowning glory; the two-tiered wooden decking furnished with colourful rugs, plush cushions and an outdoor shower – ideal for a pair of Sónar casualties to revitalise themselves with a hefty dose of Vitamin D and much needed sleep. Despite overlooking the busy street of Ronda Universitat, it feels surprisingly secluded and the top-floor location turns the noise of the street below into a meer hum.
Don't expect the usual services of a hotel here, there's no regular housekeeping or room service, neither is there a bar or restaurant within the building – but this is Barcelona, the Catalan capital is a world-famous hotbed of gastronomic delights, whilst the apartment's kitchen is more than ample for knocking together a decent bit of breakfast. The DestinationBCN team are only a phone call away too, and there's a nicely curated list of recommendations to suit all tastes left behind. In the age of living like a local, over travelling like a tourist, Naoko is a bona fide gem.
***