Meeting artists in their studios is both exciting and nerve-wracking. On the one hand I much prefer to view paintings or sculptures in the studio they were created in, on the other I feel I'm intruding on a process that is usually hugely personal and complex. As part of our art and design tour of Cape Town we were kindly invited to the studio of Paul du Toit, one of South Africa's biggest international names to date. He was not what I had experienced before, both humble and most welcoming; we instantly fell for him and his art.
His sad story of ill health and a slow-starting career still rings home, even weeks after meeting him. Not in a gloomy way but in a way of hope through creativity. He really believes in his craft and has dedicated his life to working with new materials in a way of making new art.
His work is most iconic, bold and amusing; Jean Dubuffet, Pablo Picasso, Joan Miró are key influences, along with Africa itself. Sculpture is his main medium and his Hout Bay garden acts as a home for a great deal of them. But I loved his paintings more so, essentially they act as blueprints for his concrete structures, each depicting what looks like a naïve portrait – they're vivid, almost smiling at you.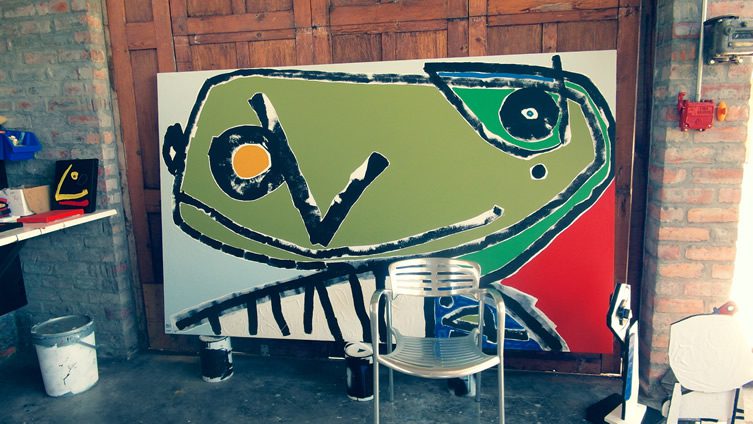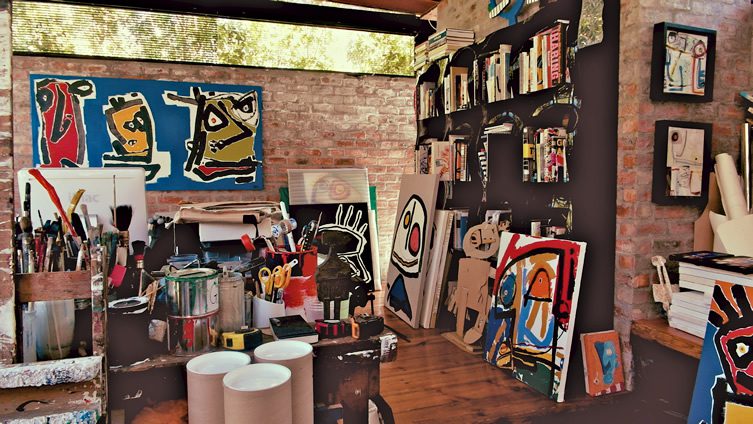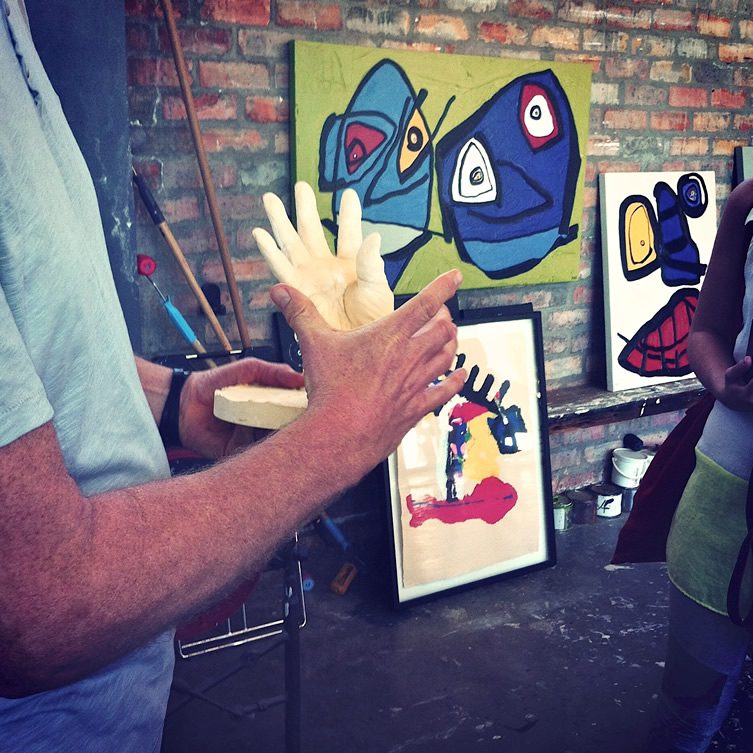 Having exhibited in New York, Paris and London, his career didn't really kick off until the late 1990s, Paul sold paintings in South Africa, but the scene was nothing compared to the rest of the world. In the hope to break the international market it took a fax, yes a fax, to grab the attention of major arts promoter Richard Demarco. Paul joined a group show entitled 70/2000, which exhibited in fourteen countries – taking him one step closer to achieving his own personal goal.
Paul talked animatedly about the materials he uses, with a passion for experimenting with the likes of acrylic and marble dust, allowing for texture and mark-making. There really is nothing like viewing art in the studio it was created in, and Paul's well-lit glass-fronted space shows his large and colourful paintings beautifully. His tools and pots of thick filler-paint line the surfaces of the studio, enabling his distinctive impasto style.
The playful crudeness in his paintings now attract a handsome volume of private collectors, yet Paul remains dedicated to charitable projects that aim to help children. One such project with the Archbishop Emeritus Desmond Tutu saw an 18-page book feature five handwritten quotes by the Nobel Peace Prize winner, displayed alongside woodcut prints by du Toit in aid of The Lunchbox Fund. Paul also cast the hand of Nelson Mandela in bronze for the worldwide charity Madiba, which fetched an impressive $3.5million at auction in London.
Paul is currently in Mexico receiving alternative treatment for his cancer that's returned. Hugely positive and remarkably smiley he will no doubt continue to draw while he receives his treatment. All at We Heart wish him all the very best!
If you'd like to help the children of South Africa you can donate here: childrenshospitaltrust.org.za
***