Some artists drip paint onto their canvas from above, others use a wide array of mechanical devices and technical instruments – Danish artist Søren Dahlgaard straps on 70 French baguettes before going about his business. Needless to say, here's an artist who does things a little differently – and his perversely brilliant work is all the better for it.
It's his continuing series of Dough Portraits for which Dahlgaard has made most waves, and with good reason; from Brazil to Korea, Israel to the Maldives – the artist has adorned willing members of the local public with… well, big lumps of dough. Naturally.
Fascinated by his work and his processes, we had a chat with Søren to find out more, and to see if he was worried about being typecast as 'the dough guy'…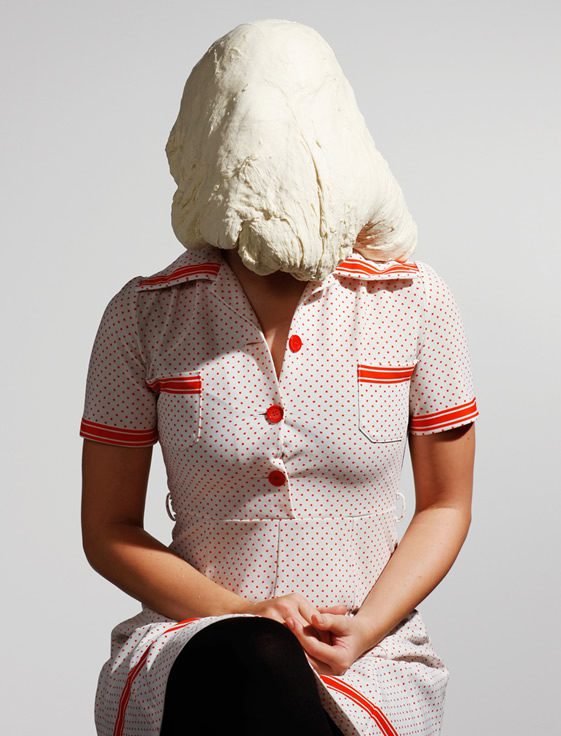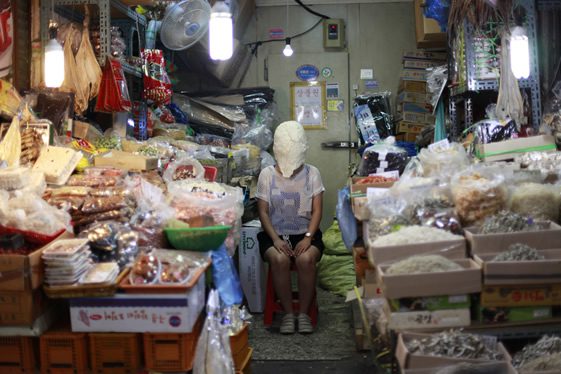 Can you tell us a little about yourself?
I grew up in a suburb in Copenhagen with a private hedge around the garden, this explains my interest with the hedge these days (Mobile hedge, A Hedge is a Lance, Dough Warrior Landscape painting etc.). The hedge is very symbolic in Denmark surrounding the land/territory. I studied art at Slade in London, met my wife there. She is from the Maldives where we moved to after art school.
In the Maldives I made a vegetable farm on a small coral island for 2 years. I come from a kind of normal middle class Danish family – dad economist/journalist, mum school teacher, maybe this is why I always question the norm and challenge the way you do basic things, such as painting techniques in my action paintings, sculpture – by adding time in 3-hour sculpture – and architecture with The Breathing Room, where the walls are moving from concave to convex.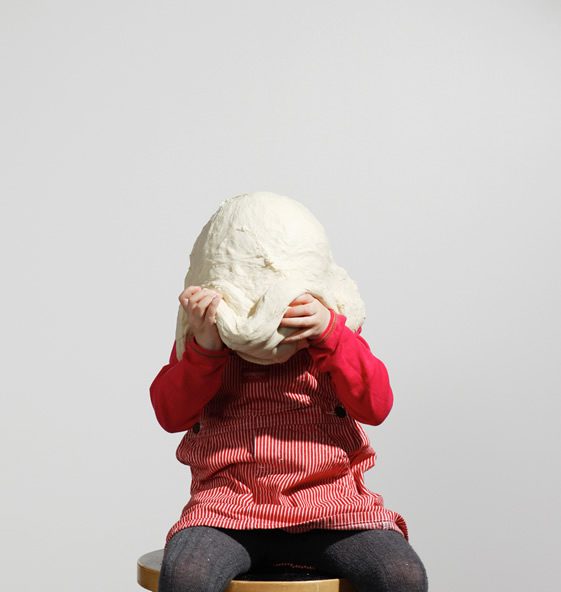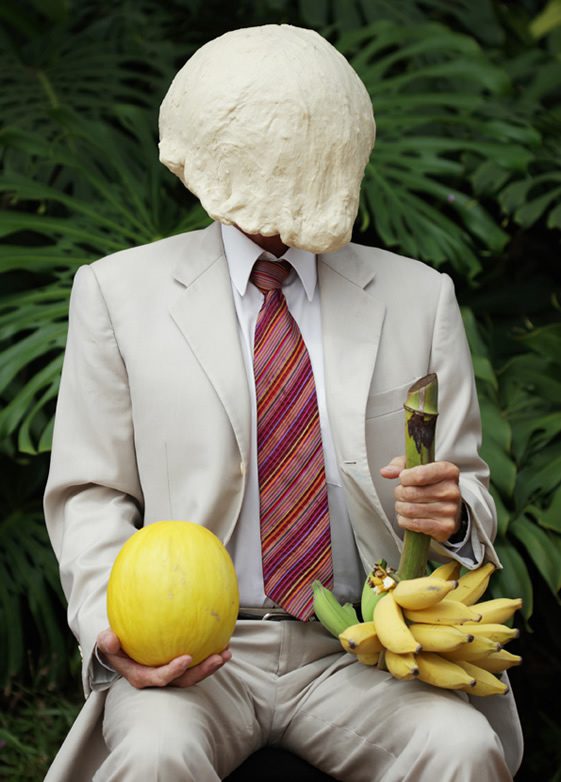 Your work heavily involves participation and performance, how would you describe what you do to someone you've just met?
I usually show my book – Seeing is Believing – or my website, this is much more easy than starting to describe my Dough Warrior performances or The Breathing Room installation or the Dough Portraits. But it's always fun to explain I strap on 70 long French baguettes and that this is how I paint!
From the vacuous nature of the 'family portrait' to uncomfortable notions of disfigurement; there's much to read into your dough portraits – was there an overriding concept when you started doing this, or was it simply "this will look good"?
The National Art Gallery of Denmark asked me in 2007 if I could come up with a project that would involve the audience and deal with identity, so I developed the Dough Portraits for this. But looking back at my work, in 1999 I also placed lumps of dough on peoples faces in the video and photo series Elliptic Touchdown.
Using dough in my art goes back to 1997, where I produced a music video for my band Silo, which actually was aired on MTV UK.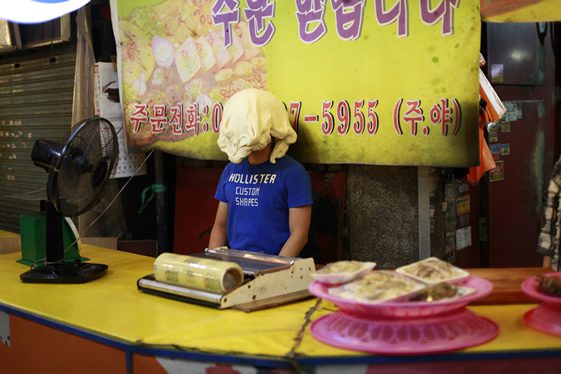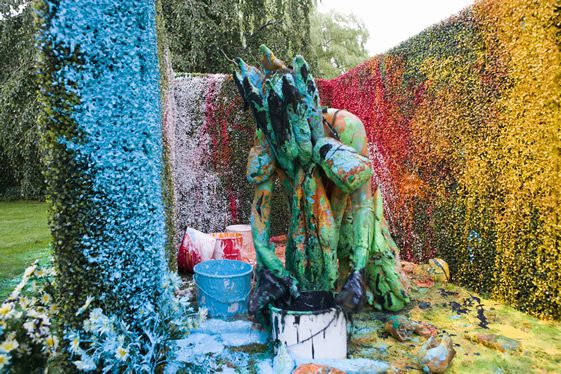 What sort of dough do you use, could I make a pizza with it?
It's a basic white flour dough just with water and oil. I use the dough as a sculptural material. You also need yeast and salt to have a basic pizza dough and this I can also use. In Gwangju, Korea a few weeks ago I used noodle dough… it's much the same. We all eat dough in one way or the other; doughnuts, cakes, naan bread, pasta, baguettes, croissants, noodles – so it's the basic universal dough.
You talk of the portraits being a collaboration with each participant – are there any participants you particularly remember?
I have photographed more than 1,000 dough portraits now in 12 countries since 2008 and the series is still growing. Some people stand out more than others of course but I remember most people, I think because of the interaction. How you move and sit and the shape of the dough is always slightly different.
In Brazil last year (2011) I photographed a beautiful older woman wearing a traditional white dress from the north of Brazil. Also in The National Art Gallery of Denmark I remember the curator had a struggle with the lump of dough since it was quite large and runny so it covered most of her upper body and she was in a slight dough panic! This is always fun. The 3-year old Katrine image also shot at The National Art Gallery of Denmark 2008 is one that stands out.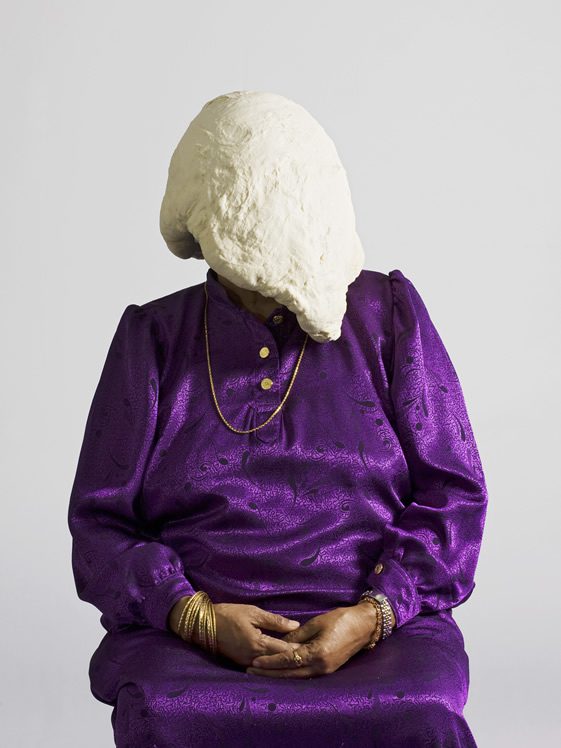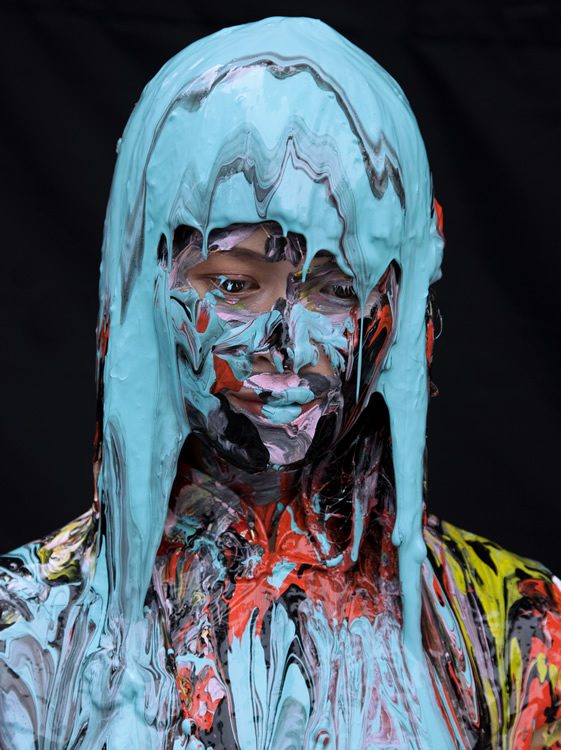 Are you worried about being typecast as "the dough guy"?
Yes, I have though about this, and since I work with many different materials such as air (in Breathing Room) fat (in Fat Wall), hedges (in Urban interventions), it can be distorted to be mostly known as the dough guy – but I know this is also natural.
For example: John Baldessari has made many types of works but will be remembered for being the guy who puts dots over people faces in photographs, and Damien Hirst is the formaldehyde guy… It's like in music, where you have a one hit song. People can remember approximately one thing from an exhibition or work of an artist. So you can be known for one work or zero…
What does a typical working day consist of?
I travel a lot, about 20 trips/100 days this year, but when I am home I am the family man – hanging out with my kids, making breakfast and dinner. Way too much time is spent on the computer organising, photoshopping, my website etc. I need some assistants! And too little time in my nice studio by the harbour in Copenhagen experimenting with new work.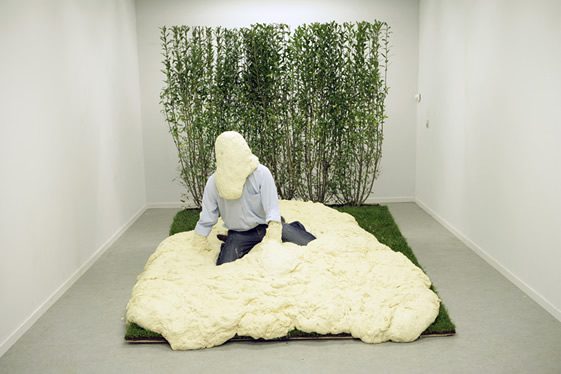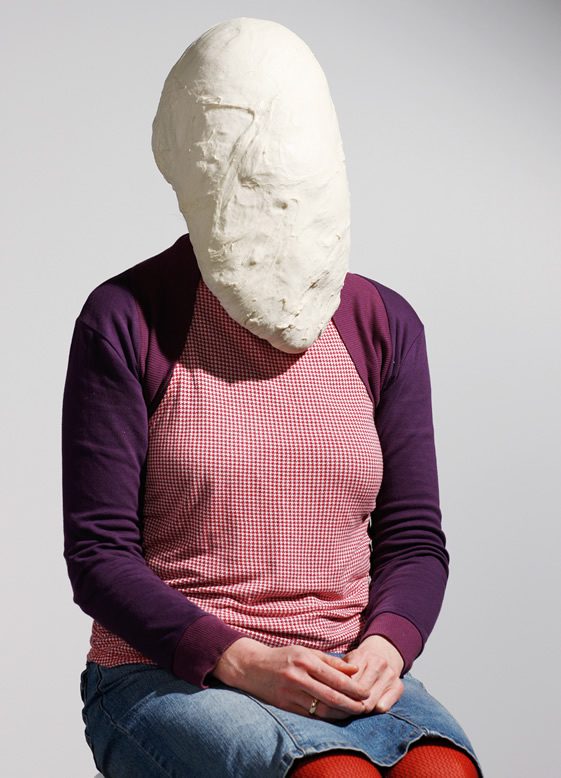 The top 3 creatives who've inspired you…
Swiss artist Roman Signer and LA artists Chris Burden and Paul McCarthy, and many more.
You couldn't live without…
1. My family and friends.
2. Good food (just returned from Korea – mmmm, nice spicy and crisp food).
3. I am very happy to be able to do my art projects and meet new people, and travel this way.
If you could live in one place, time, or cultural movement; what would that be?
The Japanese Gutai Group mostly active in the 1950s were really forward thinking at the time and lots of their ideas were repeated in the 1960s in the avantgarde movement in New York, and also in Paris by for example Yves Klein.
Hanging out with Duchamp around 1913 would also have been rather cutting edge…
Any forthcoming projects or exhibitions you'd care to share with us?
New Dough Portraits at KIASMA Museum of Contemporary Art Helsinki and Tbilisi Triennial, Georgia very soon; and I just returned from Gwangju Biennale last week – some of the images you're featuring are from there.
Also I want to publish a book, about one year from nowm with the Dough Portrait photo series; and I am looking at different publishers.