While in Basel, I spent a delightful afternoon at Foundation Beyeler. Designed by Renzo Piano to accommodate Ernst Beyeler's art collection, it houses Monets and Rothkos, which were very exciting to see in the flesh, as well as temporary exhibitions. While I was there Jeff Koons was the star of the show.
I'll be honest – I really didn't know what to make of a lot of it. A whole room full of retro hoovers (apparently symbols of newness and purity), lots of kitch Disney-esque sculptures with a kinky twist, a golden and white Michael Jackson and Bubbles the monkey…
But the hyper-real Celebration series did strike a chord with me. The series started life as a small project for a calendar and has grown into an almost 20-year undertaking.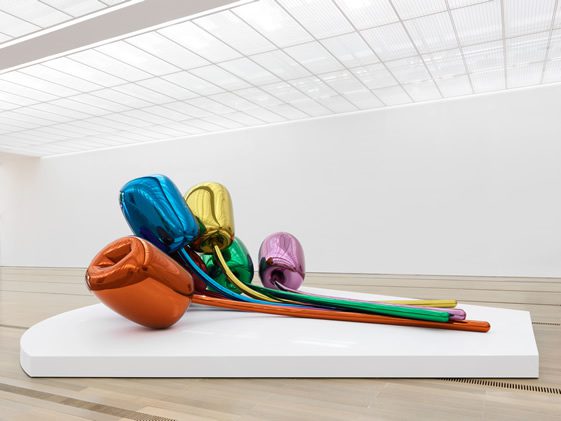 The massively oversized sculptures are made of polyethylene or high chromium stainless steel, and are so real that you can barely resist the desire to poke them! Large-format oil paintings continue the hyper-realistic theme and had me gazing at them for hours; almost trying to catch them out.
Balloon Dog (Red) was one of my favourite pieces. It looked like it might float away, and yet in reality, it is rock-hard and weighs several tons. I don't usually like things that pretend to be something they're not, but this is done is such a knowing way that it intrigues and entertains. Inspired by Koons' own childhood, they have a childlike playfulness that is absolutely irresistible.