With the run up to Sir Peter Blake's 80th Birthday next week, I popped over to the V&A for an evening talk with the legend himself and Wayne Hemingway. I love the V&A, wonderfully resilient and steeped in history – it simply is the world's greatest museum of art and design. Along with their vast program of exhibitions, events and educational offerings their evening talks coincide with the British Design Season. Whilst working together on the new Vintage Festival poster – where Peter re-appropriated his original St. Pepper's Lonely Hearts Club Band cover – the kinship between the two designers grew.
The fascinating talk covered Peter's 60 year career in both art and design, discussing their respective collections of Festival of Britain ephemera and Peter's freak-show postcards obsession. Personal, funny and charming, the two friends bounced stories off each other revealing their strange lifelong collections of mass market memorabilia. One of the more intriguing parts of the talk/interview was the discovery that Wayne's father – the iconic wrestler Billy Two Rivers, was the subject of a collection of Peter's paintings in the early Sixties. Having not known his father from an early age, Wayne's own admission that perhaps Peter knew more about his father's career was endearing.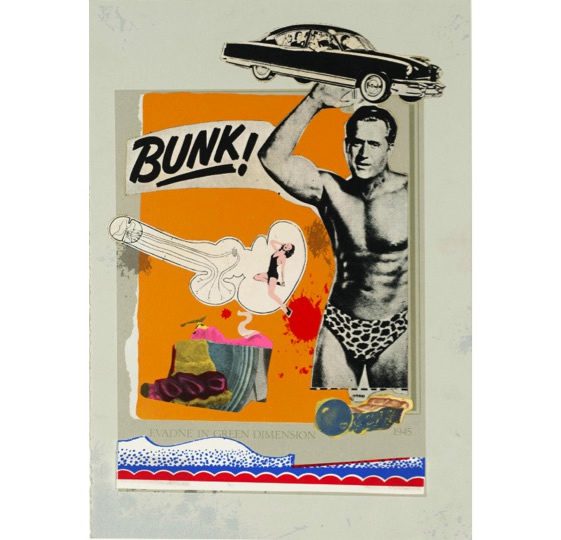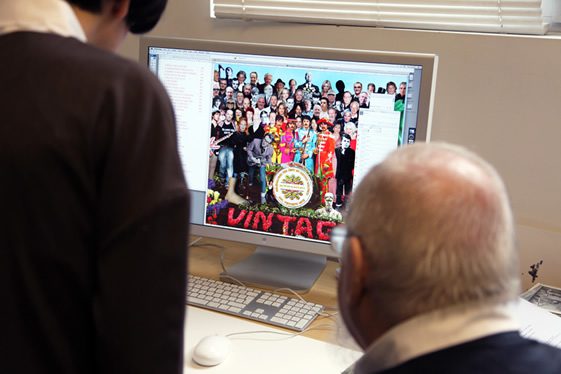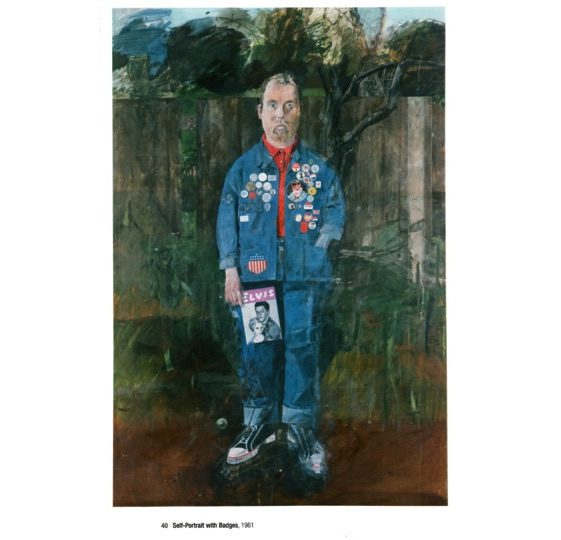 One of the reasons people love Peter's work and attitude is that he always remains 'Just Ahead of the Avant Garde'. His life and work motto is not an easy task for a society bombarded with media trends, but I love how he is just that cool… even in his almost-eighties! In his Self-Portrait with Badges (1961) painting, he's posed in double denim, baseball boots and his jacket is covered in badges. Literally no one wore denim in Britain back then, the baseball boot look was stolen from Jackson Pollock and to even consider wearing a multitude of badges was practically anarchy. I really admire this in Peter's work: his ability to not take art or design too seriously, and to make it almost accessible to all.
Numb-bum aside, I could actually listen to Peter tell stories all day, the talk was not just inspiring but incredibly charming; just two designers, family men and pioneers sharing stories at the wonderful V&A.
So, from all of us at We Heart we would like to wish the godfather of Pop Art, and most definitely Cool, a very Happy Birthday! No doubt we'll be making shapes at The Vintage Festival next month, celebrating up-cycling, vintage, music and checking out Peter's large scale art work!