Wonderful World is the epic third instalment of Gérard Rancinan and Caroline Gaudriault's The Trilogy of the Moderns. The large scale (worth over £1,000,000 we're told) exhibition is now gracing the walls of Londonewcastle's Project Space and is brought to you by Ed Bartlett's FutureTense in association with the Opera Gallery.
The predominantly photograph based exhibition also includes costume, sculpture and video with observations by the journalist and social commentator Caroline Gaudriault. Rancinan's photographs are striking and graphic with an overall aim to comment on the self appointed and over-exposed. The large Argentic prints mounted on Plexiglas are epic and glossy in their tone. Depicting our relationship with popular culture and icons of our time, Rancinan pokes fun at the comedy and tragedy of what we are becoming. With a sense of the ridiculous and clever – the collection of photographs are observant and very amusing – we're invited to laugh at our virtual selves.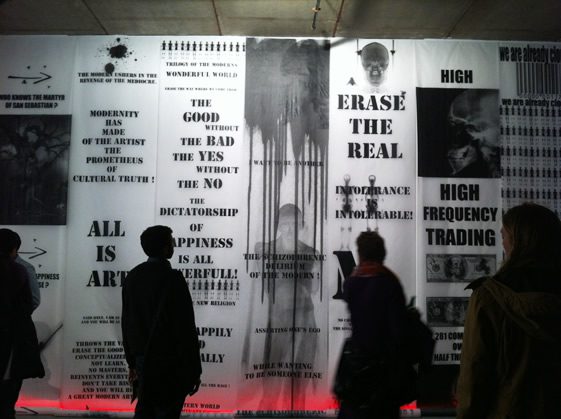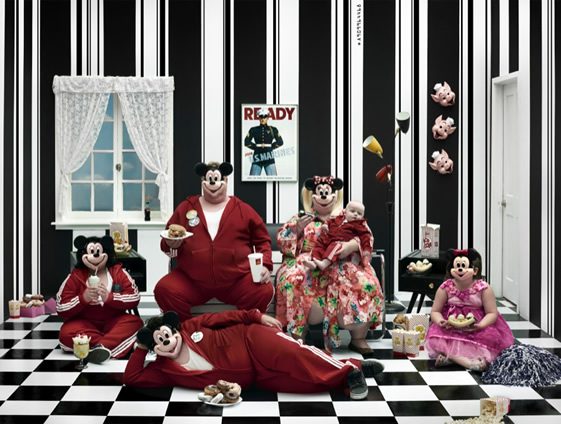 A few of my favourite pieces include Family Watching TV which depicts an obese family portrait (no fat suits here), content in their 'three little pigs' consumption, masked by Mickey Mouse gluttony. Another is The Real Last Supper which centers on 'Jesus masked as Batman' having gunned down his 'disciples' in a brilliant Hollywood fashion. Finally, and this one brings me more sinister joy is Batman Family which is another family portrait but is a worlds apart from the the family watching TV. Here the entire Batman family are highly manicured, tailored and obviously wealthy and where the sense of love or 'home' appears abandoned.
Wonderfully curated the show not only packs an aesthetic punch, but it is excellently lit and hung throughout the large gallery space. With the feel of a still contemporary opera, Wonderful World is tragic, addictive and most certainly comical – on more than one occasion I found myself chuckling at the subject matter of each photograph.
An absolute must see, but take your time. I circled the space three times and each time saw something new. Imagine a macabre fun-fair of manicured beings where reality no longer exists!
There will be a panel discussion about fine art photography featuring Gérard Rancinan and Caroline Gaudriault on 21st June; preceding the unveiling ceremony of Rancinan's public casting final works. The exhibition will be open until 24th June.