I think it probably accurate to say that San Sebastián is not well known for its luxury accommodation, or contemporary hotels. If you said its gastronomy or The International Film Festival then you'd perhaps be closer to the mark.
That's why, on a recent trip to Basque Country, I was pleasantly surprised, when – after an hour or so coach ride from Bilbao airport – we arrived at Astoria7. Should you arrive not knowing about the annual film festival (which was founded in 1953, and has since hosted the international premieres of Alfred Hitchcock's Vertigo, Woody Allen's Melinda & Melinda, and the European premiere of Star Wars), you may well get a tad of a hunch on stepping into the reception.
We're informed, upon checking in, that the theme of our room is Meryl Streep – I'm hoping it's more Devil Wears Prada than Deer Hunter – and, as we wait for the lift, I can't help but notice the life-sized, slightly perturbing Alfred Hitchcock that's sat to my left… the wall to my right is littered with names of many a Tinseltown starlet. Is this a theme being pushed a little too far?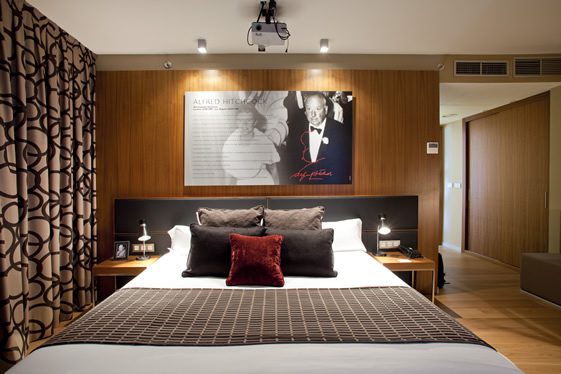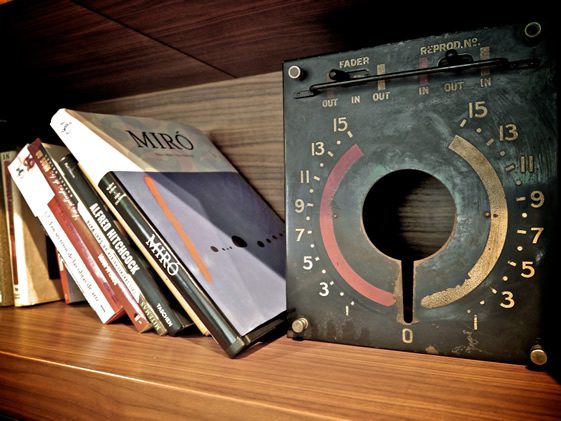 Built on the foundations of the former Astoria cinema in 2009, by the Basque architect Joaquin Zubiría, with the interior design by Luisa López de Tellería, the hotel claims to have 102 stars. That's one star – be it an actor, actress or director – for each of its 102 rooms… every one of them having graced the streets of this city. The hotel's solitary suite is dedicated to the aforementioned horror/suspense director himself, and boasts a large private balcony with magnificent views of the city, along with a projection screen to watch movies in bed (they've got their theme, and their sticking to it).
Although you may not appreciate a whopping great Meryl Streep picture above your head as you sleep, or framed pictures of her on the side table and work desk, the rooms themselves are really quite good; they're spacious and modern, with flat-screen TVs, free WiFi, large comfortable beds, and large, well appointed bathrooms (two sinks, bathrobes and slippers… the only let-down being the toiletries, not really suitable for a Hollywood starlet).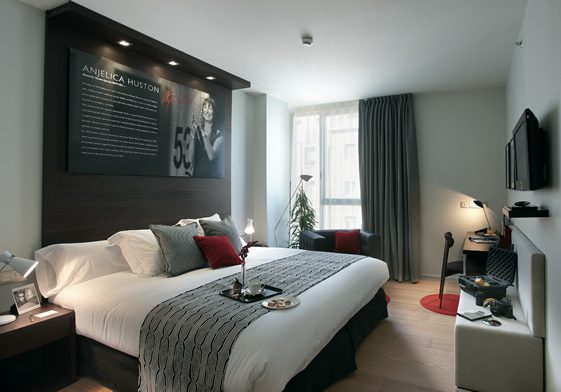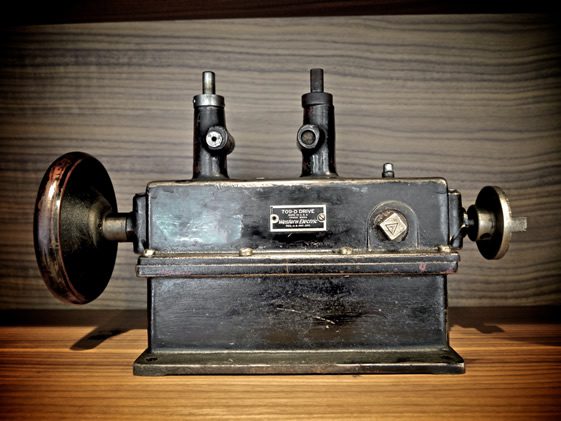 Astoria7 really impressed, when on the second evening – needing to do a little work – I trotted down to the living area, instead of staying in the room. Separated from the reception by large glass doors (it's nice not to be disturbed by those drifting in and out of the hotel), there's a huge floor-to-ceiling bookcase – complete with a handy stepladder to get at those hard to reach publications – adorned with all manner of intriguing cinematic artefacts… this is where the theme stops being a tad clichéd, and really comes into its own.
I still recall sitting amongst Keanu Reeves and Charlie Sheen, but it is much more subtle than elsewhere, and actually quite snug and homely; alluring sofas, solid wood table and chairs, and charming retro lighting. The lounge also leads onto the hotel café, La Cafeteria del Astoria, which has an impressive selection of pintxos (Northern Spain's version of Tapas) as well as beers, wines and coffee. However, to sample the real taste of San Sebastián, you'd be a fool not to visit the plethora of pintxos bars in the old town, trying each establishment's house speciality before moving on to the next.
Having walked into the old town, city centre and down to the Bay (no more than a 15-20 minute walk away), I'd be inclined to say that – apart from perhaps a lonely grand hotel – this is the city's freshest, and most welcoming place to stay. Whilst the movie theme may not be to everyone's taste, it's a bit of fun… and for the price (from €90 a room, including breakfast), it can't be beat.