We've been in love with Rhonda Drakeford and Lulu Roper-Caldbeck's inspirational London concept store, Darkroom, since it opened at the end of 2009, and after introducing the theme of 'Into Africa' for their inaugural summer season in 2010, they're back with another impeccably curated selection of products that put a decidedly modern twist on tribal crafts.
Aztec Camera is this year's theme for Darkroom's summer season and with a selection of awe-inspiring fashion, accessories, interiors and art on offer, we caught up with the duo for a quick chat…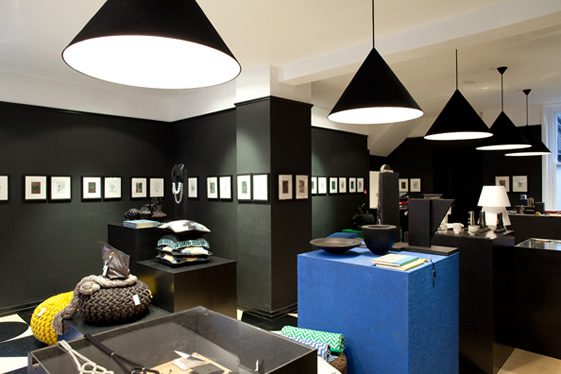 Your store opened in late 2009, how's everything gone since and what's been your highlight?
It's been an amazing year – we've really been blown away at the response both by the press and customers. You could say that we took a large risk opening a concept store such as ours during a recession, and we were definitely nervous about whether people would be intimidated by such a full-on interior space, and a new way of merchandising [we mix men's, women's and interior accessories and present them in quite sculptural still life's]. It's been quite the opposite, and people from all walks of life come into the store and are really excited at what we offer – it's a great feeling, and we are so glad that we stuck to our original beliefs, and tried to do something differently.
There have been many highlights – being voted as one of London's top shops by Time Out, our first product [a range of hand mirrors] being nominated for the Wallpaper magazine Design Awards, and being featured in so many great international publications – it's a strange feeling to know what we have done in our little shop has reached out so far! Also of course, our lovely customers have been amazing and we are lucky to already have a loyal and supportive bunch. We are constantly inspired by their willingness to go for the most 'statement' necklace over the few 'safer' pieces we hold. Our customers really understand the concept of fair-trade, investing into well made, interesting objects over the throw-away.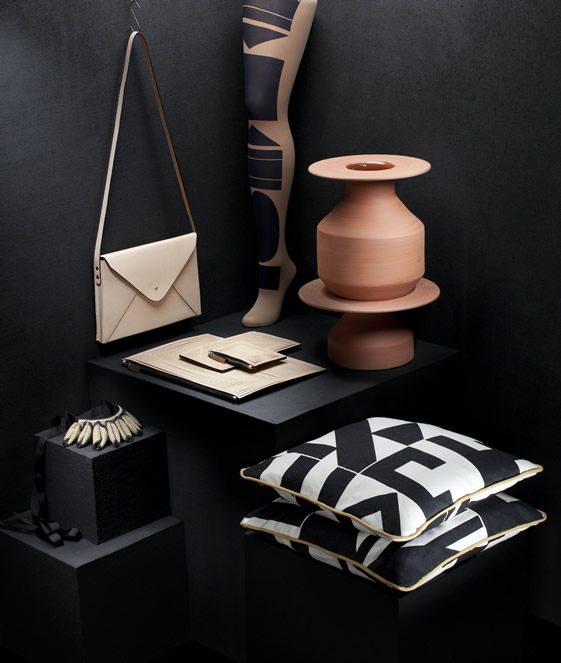 Can you tell us a little bit about your spring/summer collection's obsession with the ancient civilisations of Central America?
Our inaugural summer season was themed 'Into Africa' – it was a chance to showcase what we like to do here at Darkroom, mixing modern, crafted items with tribal and indigenous works. We collaborated with many designers to produce one-off and limited edition ranges that were inspired by African processes, colour palettes, materials and pattern. The season was a great success, and we have themed subsequent seasons in a similar way – it helps us focus the collections, especially as we are not label or trend led.
Our new season Aztec Camera explores the art, architecture, materials and symbolism of the ancient tribes of Central America. This idea started when we were out sourcing new work and noticed that we were getting drawn to modern jewellery made from old metals. It sparked the idea of working in this area which is so rich with intense colours, vibrant pattern and incredible textures.
You're presenting your first range of Darkroom bags and leather accessories, alongside prints and other collaborations. Do you feel the Darkroom brand is taking on a life of its own in the last 15 months and are there any plans to stock your own products elsewhere?
It has always been our plan to build on our own collections, but to always present them alongside other people's work that creates dialogue and contrast. Our first year was spent concentrating on getting the retail space [both the shop and online] up and running properly. Bar the odd Saturday job when at college, we have no previous retail experience, so it has been important to spend time getting that right. Now we have a wonderful platform to build on and a big part of our 2nd year is going to spent working on this – the pieces we are presenting as part of the Aztec season is the first of the bunch. Long term, we do plan to start selling through other like-minded shops around the world.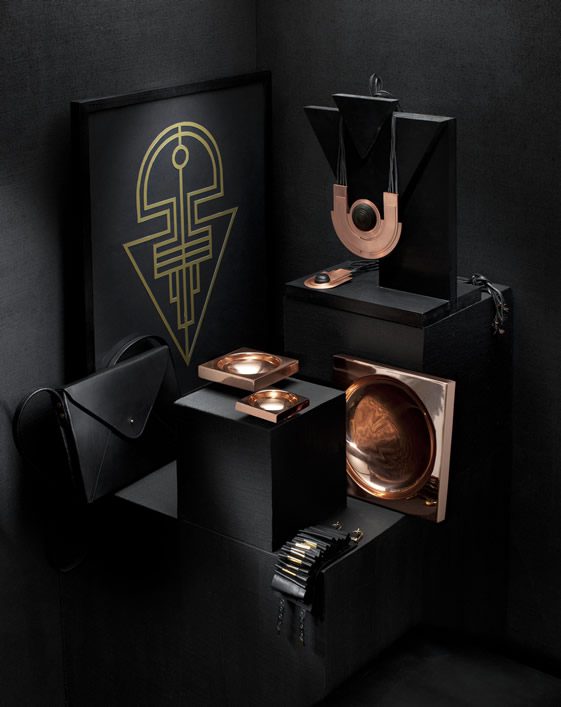 You recently opened a Christmas pop-up shop at Le Bon Marché, Paris. Any more pop-ups, collaborations and the likes in the pipeline?
Due to the success of Le Bon Marche we have been contacted by other departments stores both internationally and nearer home – we are definitely open to the idea of doing another pop-up soon! Darkroom has such a strong visual identity, it's great to see it working so well when recreated in different environments.
Can you introduce us to the new names you're showcasing in this season's collections?
Simone Brewster is a London-based jeweller who works in wood and base metals. Her work is extremely ornamental and references architectural forms.
Elke Kramer is an Australian jeweller who's sculptural work in resin and precious metals evokes pieces collected by a 1920's traveller on their Grand Tour of Central America.
Atelier Polyhedre are French ceramicists. Their work is quirky and brave, using strong angular forms.
Lizzy Disney is a London-based designer who used to design clothes, but now specialises in leather accessories. Her work is so pleasing and clever.