Amsterdam-based interior design studio Studio Modijefsky recently completed works on their smallest ever space, an iconic café on the Amstelveld which has welcomed revellers since late 1800s and measures a seriously snug 39 square metres.
A household name in Amsterdam for decades, Café Marcella's interiors have been modernised but not revolutionised by the design studio, ensuring it remains a home-from-home for locals and travellers to enjoy good times from morning to night. Welcoming guests literally — Marcella's front door featuring the word 'Welkom' written in traditional hand-painted letters — the café serves p traditional coffee and cakes alongside sandwiches and snacks including smoked ox sausages, a selection of local cheese, and bitterballen with mustard.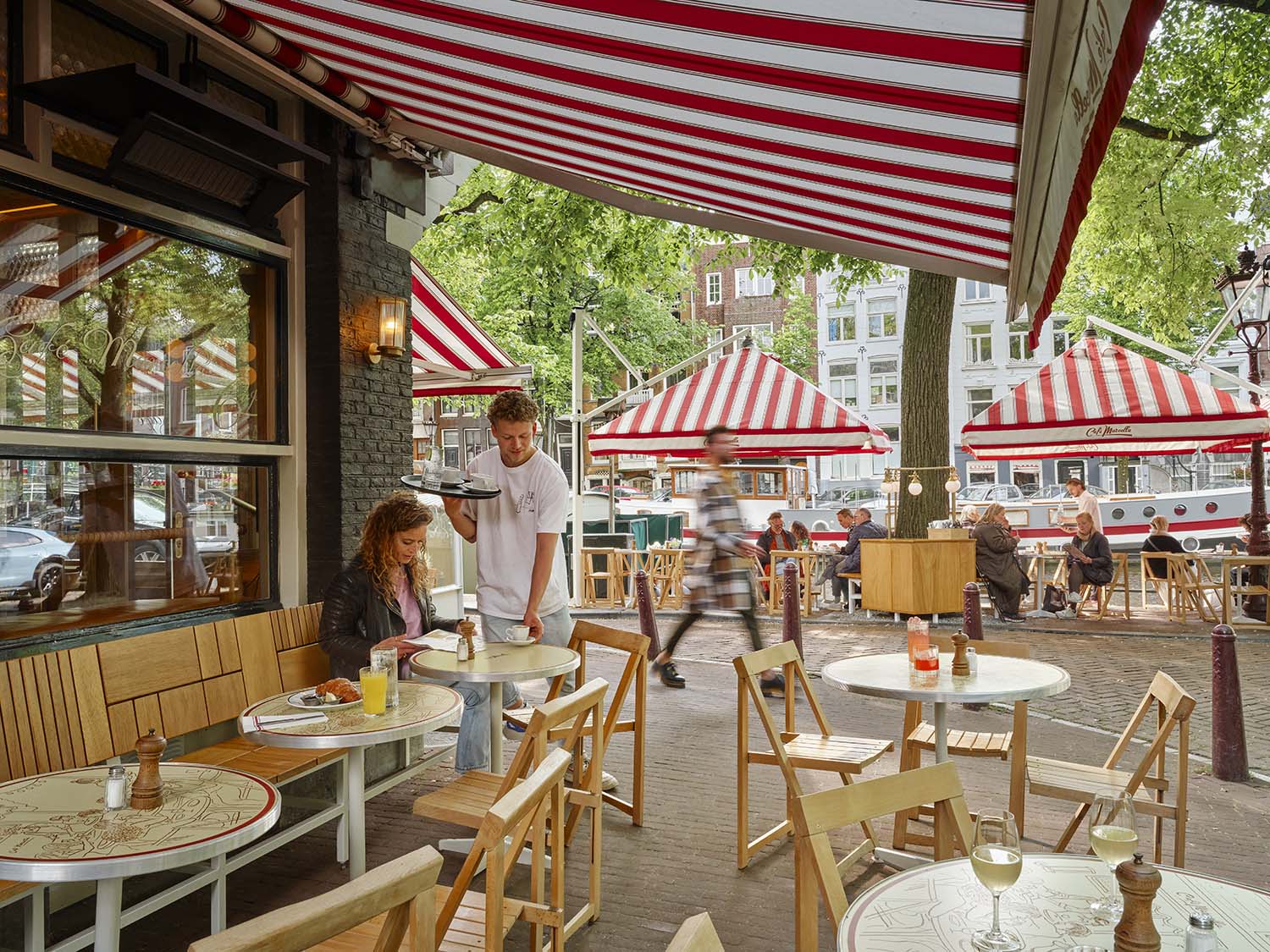 Gaze upwards and you'll see hypnotising swirls of yellow ochre, brown and blue on the marble ceiling, a painting technique usually saved for walls but applied by the designers in the way that they saw fit. A soft glow radiates across the room provided by a long yellow neon light that outlines the silhouette of the zigzag ceiling and provides the illusion of space in this tiny venue.
Made entirely of terrazzo, the bar provides an example of how Studio Modijefsky play with tradition in Marcella. Triangle shapes made of wood and brass add a refined edge and soften the bar's appearance while alluding to the main entrance exterior, and smaller brass details grow into sculptural shapes, creating a modern look that blends seamlessly with the classic location.
To honour the building's history, the studio worked with an experienced local craftsman to develop a suitable patina for the aged mirrors which cover an entire wall; their weathered reflections combining to bring the outside world inside, with shades of green from the ancient trees that fill Amstelveld. A red neon light on the café's brick façade lets guests know they've arrived, as does an ample terrace bedecked with striped parasols, the perfect spot to hang out on Amsterdam's sunny days.
Blending the past and the present with an open-armed welcome, Café Marcella epitomises the classic cosiness of Amsterdam cafés whilst offering a sense of something new.
@studiomodijefsky
@cafemarcella