All of us are painfully aware of the horrific invasion of Ukraine, and for those remaining, daily life has been upended beyond comprehension. Whilst they watch Russian missiles fly into their projects, Ukrainian architectural studio, Ponomarenko Bureau, are currently undertaking social projects to resettle refugees from war torn parts of the country, working with two other studios to convert gymnasiums into living quarters; 15 gyms converted and more than 2,500 people resettled already.
All design projects in the country currently frozen, the studio got in touch to talk about some work completed before the invasion. It is our honour to share their work for Kharkiv coffee shop, 23a, a spot we sincerely hope we can visit sooner rather than later.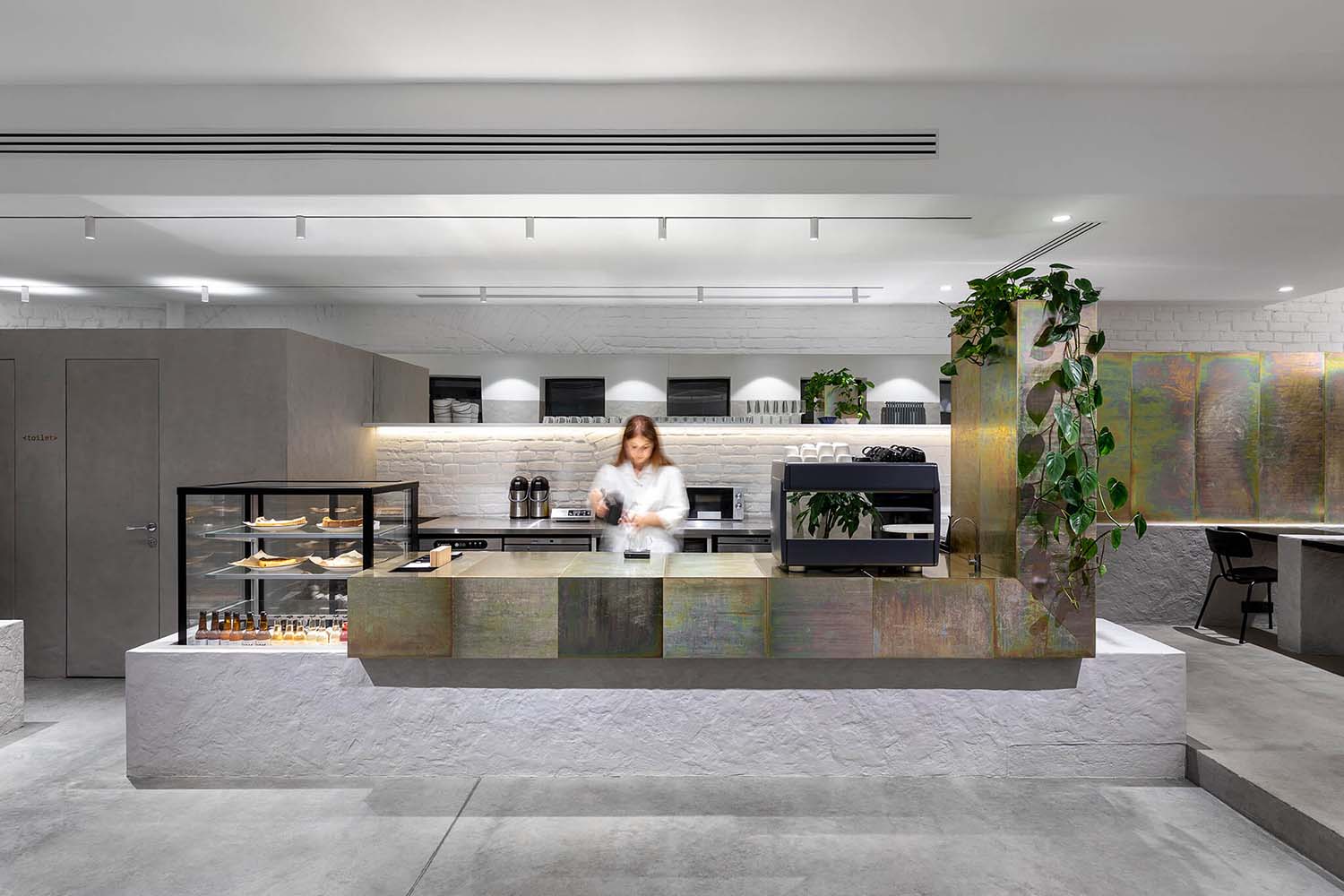 Coffee shop by day, natural wine bar by night, 23a is located in the historic quarter of Kharkiv, Ukraine's second-largest city and one hit hard by the illegal occupation. At just 86 square metres, Ponomarenko Bureau have created a cosy space with 38 seats and interchangeable elements to enable the owners to change the layout depending on the time of day or clients needs. Modular furniture can be rebuilt and different zones mean that one area can be used by groups, whilst smaller zones can be used by individuals and intimate groups of friends.
Serving coffee, light meals, and desserts during daylight hours, the concept is for 23a to turn into quite the party place come nightfall, when bottles of natural wine are opened and the music is cranked up a notch. A new concept for the city, Ponomarenko Bureau were looking to create something special with here, and as such fused metal processed with a rainbow zinc coating to create a unique effect with the light materials; a moody colour palette is lifted by lush plans and foliage found throughout.
Located by the now heavily damaged Kharkiv State Academic Opera and Ballet Theatre, when the city recovers thanks to the brave and proud resilience of the Ukraine people, 23a will be one of our first ports of call. Go and show support. And fuck Putin.
@23a.23a.23a
@ponomarenkobureau