Located in Brovary, a city in Kyiv Oblast in northern Ukraine, Simon Coffee Bar delights caffeine addicts with third wave brews, freshly baked sweet treats, and a rotating selection of international wines.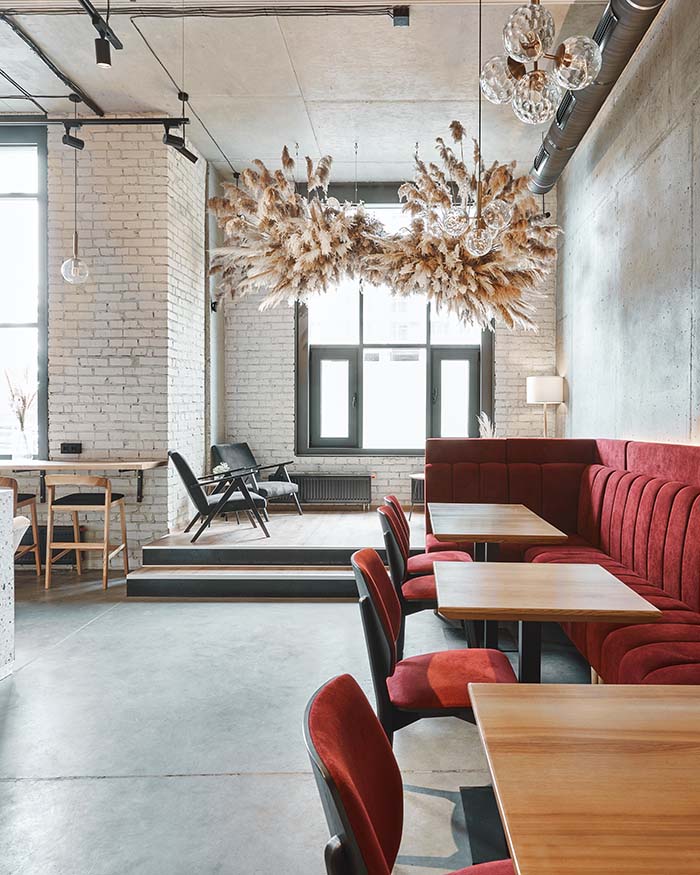 Designed by Kyiv-based architect Nataly Galtseva and master of arts, Maria Chobotar, the 80 square metre space combines contemporary design with a welcoming ambience.
The owners tasked the designers with a brief to create an aeshetic that mirrors "a young hospitable barista from Simon Street, for whom the passion for the world of craft coffee has turned into a professional activity." Whether a cool café can take on the persona of a hospitable hipster remains to be seen, but Simon Coffee Bar sure is a handsome young devil.
Large windows let in the natural light, softening an otherwise industrial look highlighted by exposed brick walls, concrete, and stone. Terrazzo ceramic tiles draw customers attention to the central counter bar, behind which is a Bordeaux-coloured wall, which is not only is the owner's favourite colour, but adds a touch of warmth to the coffee house.
Take your coffee at the high bench that lines the window, on inviting sofas and armchairs, or at tables in many of the nooks and crannies that can be found dotted throughout the space. Enjoy a lingering afternoon spent people-watching (or catching up on emails) in this fine coffee bar situated in the heart of a modern residential area, where attention to design detail is paramount.
Serving great coffee and other goodies, Simon Coffee Bar Brovary demonstrates Galtseva and Chobotar's ability to fuse photogenic design with an authentic sense of welcoming warmth. A charming delight in an eastern suburb of the country's capital, Kyiv.