A state-of-the-art cultural venue and hotel, standing at 75 metres tall and counting itself as one of the world's tallest timber buildings, has officially opened its doors; the Sara Cultural Centre a new typology for creativity in the Swedish city of Skellefteå.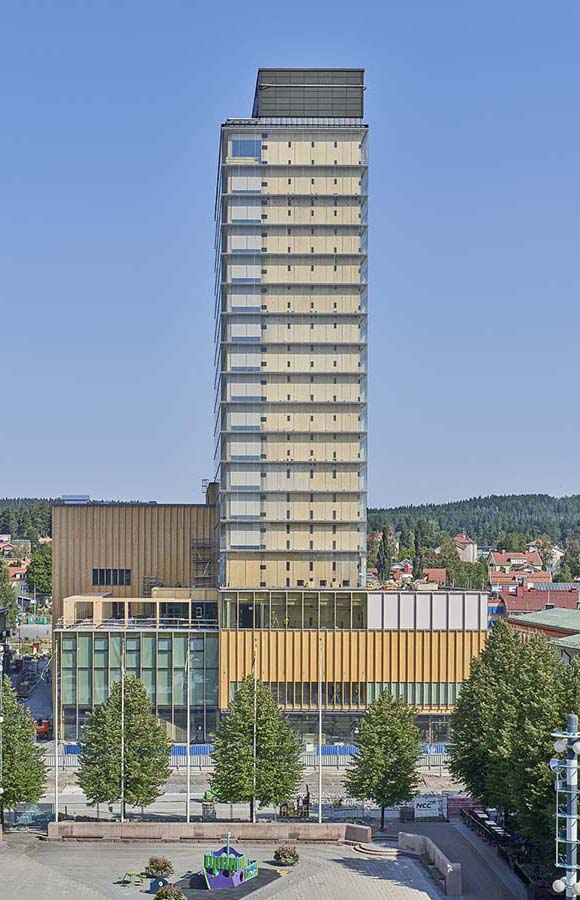 A city with a rich tradition of timber architecture, Sara Cultural Centre marks the revival of Skellefteå's heritage, the carbon-negative building now home to the Skellefteå Art Gallery, Museum Anna Nordlander, Västerbotten Regional Theatre, new City Library and The Wood Hotel. The latter is set over 20 storeys and boasts a restaurant, spa and sweeping views over the city, which is majestically located below the Arctic Circle in Swedish Lapland. Led by White Arkitekter——the winners of an international design competition initiated by the local municipality——the Scandinavian architectural practice with "a vision that all its architecture will be carbon neutral or better by 2030" designed the Sara Cultural Centre using locally sourced timber from regional sustainable forests, subsequently processed in a sawmill approximately 50km from the building.
The conscious design, together with a ground-breaking energy system developed by Skellefteå Kraft and ABB, reduces the energy use of the building, whilst solar panels on the roof produce renewable energy that, combined with the timber structure, compensate for the CO2-emissions produced by the building. The building has been designed to have a lifespan of at least 100 years, and will be carbon negative within 50.
A dynamic meeting point combining culture and entertainment with hospitality, Skellefteå's new culture hub represents an inspired commitment to sustainability and cultural clout for the city. A true vision for how momentous timber buildings can be, this new Swedish icon offers a blueprint for a brighter tomorrow. Hopefully the world's eyes are on this small city on the Skellefte River.
@sarakulturhus
@whitearkitekter