Costing a cool 46 million pounds, the opening of The Box Plymouth was one of the most significant cultural events in the UK in 2020. Located in the Devon port city, the major museum and art gallery is quite the destination in its own right.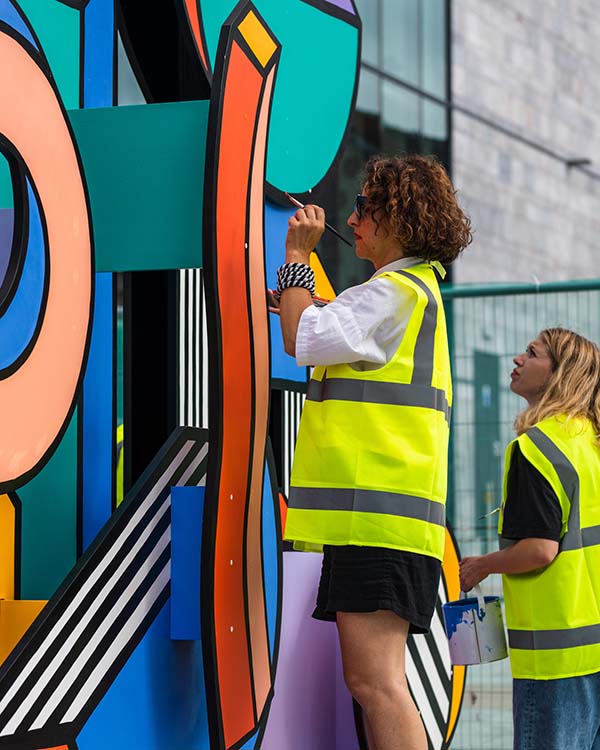 Bringing together six outstanding national collections as well as objects from Plymouth City Museum and Art Gallery, archives from the Plymouth and West Devon Record Office, and film and photographs from the South West Film and Television Archive and the South West Image Bank, the venue is an eminent draw for the southwest.
Marking its inaugural Making It exhibition, artist Camille Walala was commissioned to create a public artwork for the gallery. Curated by Alter-Projects, it's a major highlight of The Box's summer 2021 programme; the colourful installation giving life to newly created public square, Tavistock Place.
Entitled Putting Things In Perspective, the free-standing sculptural work sees Walala play with plane and perspective. Existing somewhere between 2D and 3D in the manner of a trompe-l'œil, the eye-catching installation measures approximately 6m long by 2.5m wide and 2m high.
"Being commissioned for The Box to create a public artwork was an incredible opportunity to push my work in a new direction," explains the French artist and We Heart favourite. "After the intensity of the last year, I find myself more attracted to softer lines, drawn by hand. I want them to be slightly imperfect. This year has been a good lesson of letting go. In the last few months I have really enjoyed spending time painting and experimenting with colours. Taking the time to find the right tone of each colour was really joyful and satisfying."
Still very much an instantly recognisably Camille Walala work, Putting Things In Perspective can be viewed at Tavistock Place until 5 September 2021.
@theboxplymouth
@camillewalala
@alter_projects