When a new family member appears in your house, you try to create comfortable conditions for your creature; you want to see your furry friend happy. You're ready to study endless wag cat food reviews, purchase interactive toys, and train it commands that will help you understand each other better. It is not a secret that every pet has its character, peculiarities, and preferences that you should live with.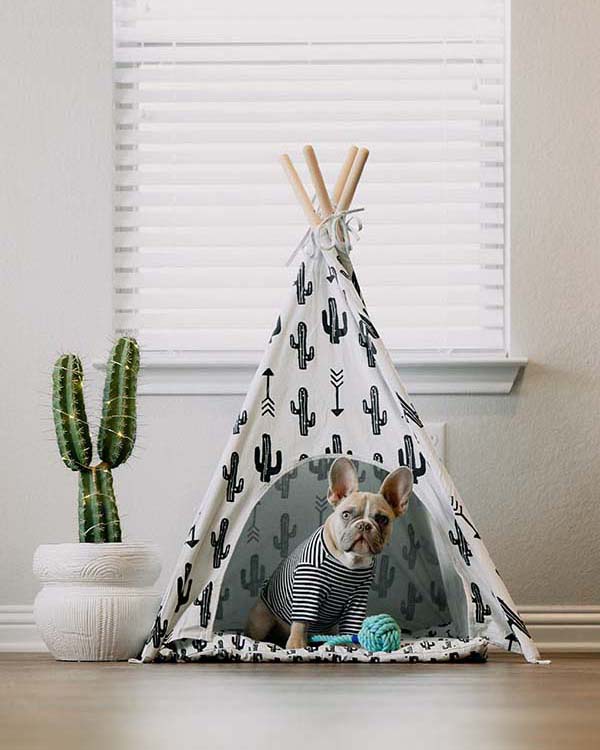 Even though most pets are small in size, their essentials can occupy a pretty big space. Besides, it may turn out that your four-legged friend prefers some unusual places for resting. The good news is that the modern market offers a huge variety of essentials that can fit in your interior and please your pet.
1. Wigwam: The advantage of this option is its versatility since it is suitable for any interior. In such a house, your pet will feel like a real hunter-traveller. You can place flowers next to it if, of course, your pet doesn't like to chew them. Otherwise, you can think about artificial flowers or some decorative elements.
2. Bedside table: If you don't have much space in your apartment for a bulky construction, you could consider arranging your pet's place within your bedside table. If you don't have one, consider thinking through its design and making a custom order; or you could use other pieces of furniture, such as a shelving unit. Original and functional, it's an unconventional but practical solution for a cat or tiny dog such as a chihuahua.
3. Knitted basket: It is the simplest and most minimalistic option. You can put such a bed anywhere. Besides, it is a great DIY option since you can find a huge number of various tutorial videos on the internet, and if you like such stuff, you can save yourself a pretty penny. A voluminous knitted bed can add a sense of hygge coziness to your home's interior aesthetic. Just pick the right colour and devote some time to making it.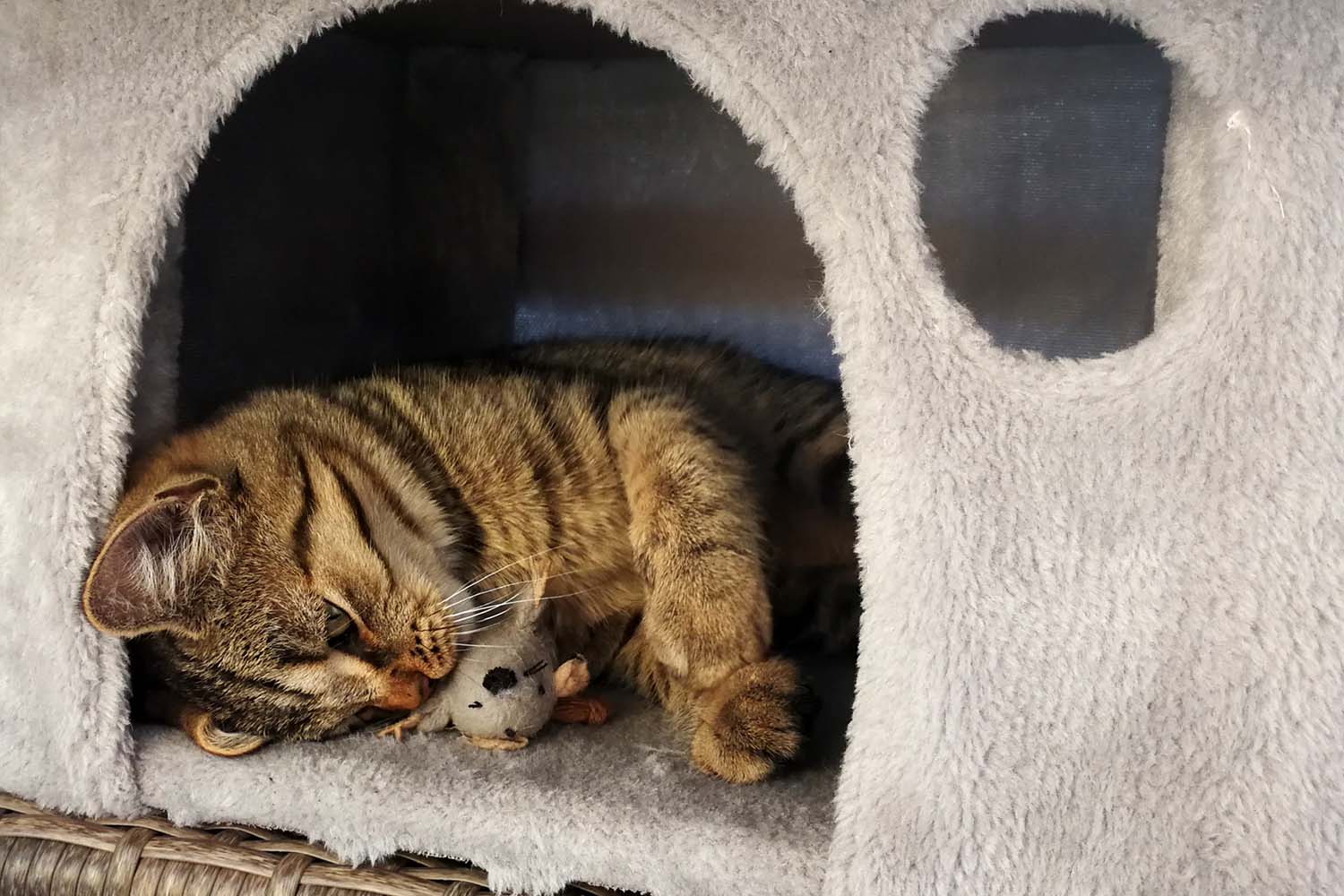 4. House: Feeling extravagant? You could even make a 'separate apartment' for your beloved pet. It can be a minimalistic plywood house, stylised as a country house, a chic mansion, even an exact copy of a castle; turn on your imagination to its top setting and have some fun. The advantage of such 'apartment' is its aesthetic appeal to transform a corner of your home into a fantasy world for your furry friend. However, bear in mind that the items chosen for the design must be pet safe.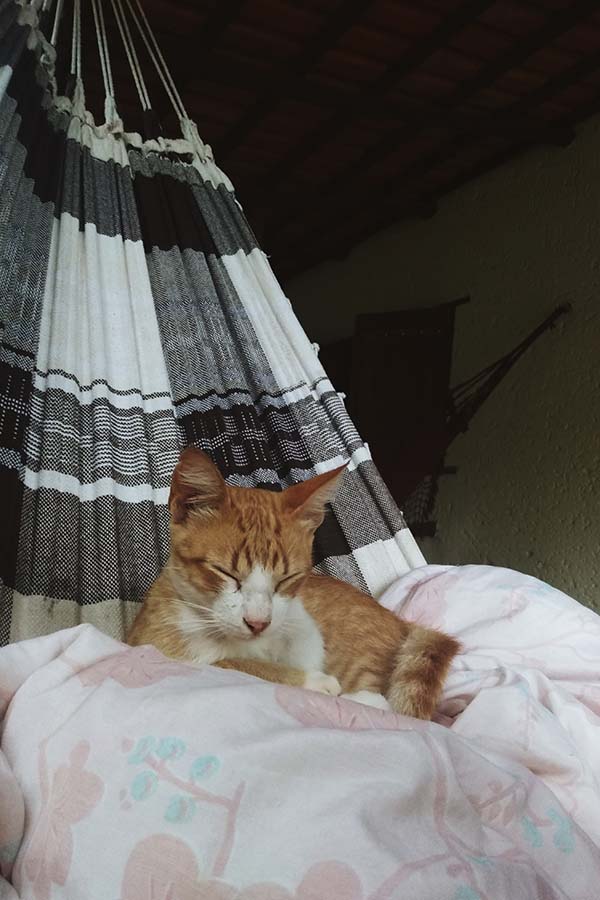 5. Miniature furniture: If you like taking cute pictures of your pets (it's got to have its own Instagram account, right?), you'll appreciate this option. If your pet loves your bed, then you can provide it with its very own small version. You can also choose a sofa from miniature furniture suppliers who are cashing in on crazy pet fanatics. To make this furniture more interesting, get a small bedspread and cute pillows that will match your bedding style. You'll have a cute composition for your room that is guaranteed to get a ruck load of likes.
6. Playground: If you have an active pet, who just loves to rush around and turn everything upside down, as well as scouring the internet for the best leather collars for dogs, consider searching for a suitable play complex for it. The animal will be able to stay active without unpleasant consequences for your home. Such a complex can greatly simplify your life because it includes all essential moments: a sleeping place, various toys, a scratching post for a cat, a hammock, a ladder, and much more. Your imagination is the only limit to this playful pet pen that your new friend will go crazy for.
7. Soft bed: Does your pet like to sleep on your pillow and other soft items? You can provide it with a soft and luxurious bed. Perhaps the most conventional suggestion here, these luxury dog or cat beds come in different colours and shapes, so you'll easily find an option that will appeal to your pet and fit the interior and style of the room.
8. Felt house: Do you know the feeling when you want to be rolled up like a burrito in a blanket with a mug of warm tea? Pets may share your desires in this regard. Of course, they don't drink tea, but they still value warmth, coziness, and comfort very much. The advantage of such a house is that this wooly felt perfectly retains and gives off heat, so it will be comfortable in any period of the year.