The story starts way back when "times were considerably less complicated" than they are today. Wanting to bring a taste of the boulangeries and patisseries of rural France to the hustle and bustle of London, Elizabeth and Laurent d'Orey founded Orée, a chic café-bakery that serves up artisan bread, delectable pastries and pâtisseries to a loyal customer base. Fast forward a few years, and the brand continue to expand with their seventh outpost soon to sling open its doors on Battersea's Northcote Road.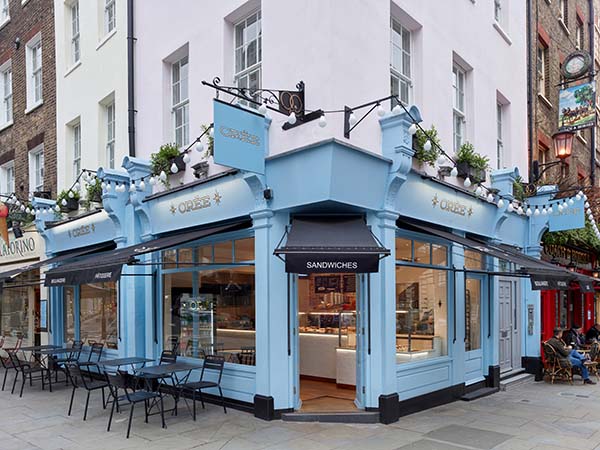 Calling upon the considerable expertise of interior designer and architect studio, Shed (who've been working closely with Orée since the opening of their first London establishment on Fulham Road back in 2015), this prominent corner plot features the brand's signature façade; the bright but pale blue exterior giving this Francophile's paradise a certain je ne sais quoi with its easily recognisable frontage.
Blending all the tradition and heritage of the classical French boulangerie, Shed——inspired by a simplicity of ingredient, artistic craftsmanship of bakers and the beauty of their end products——have celebrated these traditional values whilst adding a contemporary twist to the end result; an interesting geometric ceiling and a considered use of materials lending a modern luxury feel to Orée Battersea's interior aesthetic.
Large glazed windows are adorned with intrinsic gold leaf lettering and set under Victorian style awnings, allowing customers to gaze in delight at a tempting display of patisseries laid on a clean white slab before allowing their eyes to move to the backdrop of fresh bread (kneaded and baked daily), which is stacked and layered within a black metal mesh framework behind.
With a menu that also boasts a selection of breakfast dishes, sandwiches, salads and coffees, to eat-in or takeaway——all fused with irresistible design and the familiar d'Orey touch———Orée Battersea looks set to be another winner for the city's flourishing foodie brand.
@oreeboulangeries
@sheddesign
@c9architecturalphotography