Commissioned by Paris-based 6M3 Collective as part of an initiative intended to bring life to the city's abandoned spaces, British artist Morag Myerscough has converted a small square close to the Pompidou Centre and Saint-Merry into a colourful urban reliquary, her distinctively exuberant structure a hopeful response to these current times.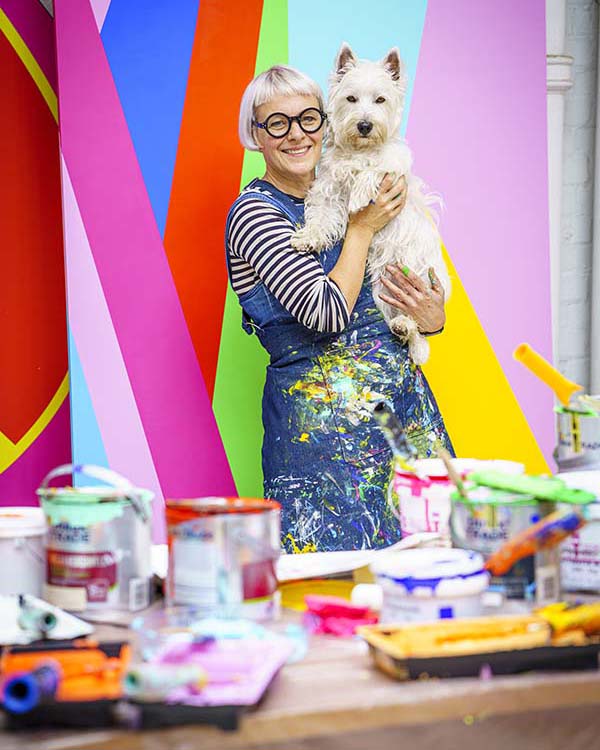 Entitled A NEW NOW, the site-specific public art installation stands at over eight metres tall, and bears all the hallmarks of a Myerscough work: strong colours, pattern, disorderly geometric shapes and bold lettering. In this case, the choice of words intended to urge us to rebuild a 'new now' post-Covid-19.
"I have always felt strongly that we need art in every form to stimulate us and transport us from the everyday," admits the London-based purveyor of positivity, "but at this time, it is essential for our wellbeing. I do not believe in the phrase 'a new normal', I have always disliked the word 'normal'." 
"For a while we were all on pause … we have had time that we have never had collectively before; to spend reflecting, understanding and rethinking about what is important to us as individuals, families, local communities and the global community. I believe it is impossible to predict the future, and we are living in 'a new now'. We need to find and embrace ways of moving forward here and now. We are in the midst of seismic changes and we must aim to make a better sustainable world."  
Created and built in her studio over a three week period, the neon statement—placed over a calm graduated sunrise—adds a much-needed bolt of optimism to all those who pass the otherwise forgotten Parisian square; A NEW NOW intended to bring a sense of belonging and understanding that will hopefully help us onto a path to rebuild a better and more inclusive tomorrow.
If any artist can deliver us all an optimistic message for a brighter future, Morag Myerscough is a good shout.