The Hoxton heads into the wilderness, pitching 12 tents in the grounds of a luxurious 18th-century country house in leafy Oxfordshire; the immersive pop-up experience from everyone's favourite hip hotel brand set to remain in place for the month of August.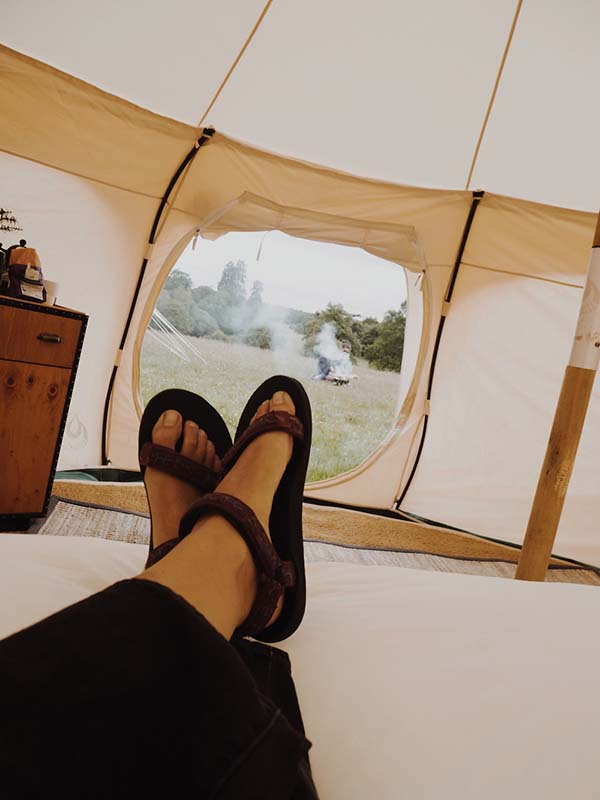 More 'Glamping' than 'Glastonbury', Camp Hox is the realisation of an idea a few years in the making, and couldn't come at a better time for those seeking experiential but responsible travel amid a global pandemic. "It's never made as much sense as it does now," explains Ennismore founder and CEO, Sharan Pasricha. "We know a lot of our guests are still weary to travel into cities, so we put our heads together and thought, let's give them all the things they love about The Hoxton in the countryside."
Set on the lawns of a Grade II listed mansion, campers can expect the very best bits of The Hoxton combined with the great outdoors; the 12 lotus tents each kitted out with bona fide beds, Hox pillows and duvets and greenery from ​Patch plants​. The renowned breakfast bags have made it out to the country, and are delivered daily. In addition, guests get access to a stocked fridge and bottle of Altano natural wine on arrival. Come nightfall grab your friends and head to the 'pour-your-own' ​Graham's Port and tonic bar complete with communal fire pits and BBQs; ideal for preparing and smoking your own grub.
As an added benefit, ​a complimentary pot-washing service is included, and perhaps best of all, guests are privy to their own private powder room, toilet, and Blank toiletries to slather over themselves in the shower. This really is not the camping experience you are used to.
Looking to escape your city or avoid necessary travel to metropolitan areas? Look no further. At Camp Hox, one can look forward to waking up among nature; to hearing the sweet sounds of chirping birds; and enjoy greenery as far as the eye can see. After the challenges that 2020 continues to sling our way, turn off, tune out, and reconnect with the beauty of nature; all whilst enjoying the very best you'd expect from The Hox. A winning combination.